Crispy Poha Khasta & Dahi ki Chutney | Special Poha Khasta for Breakfast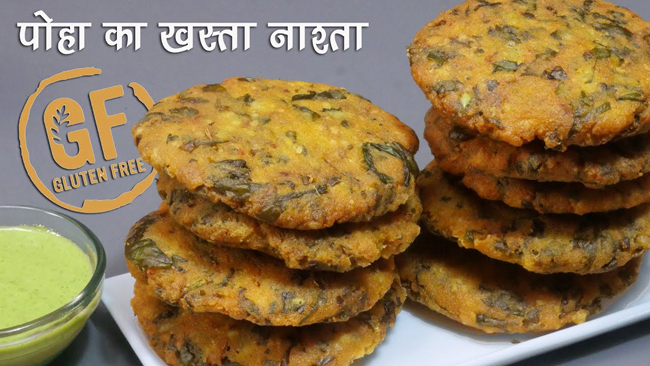 Howdy, readers! Are you tired of regular boring breakfast? If yes, then let's prepare Poha Khasta & Dahi-Coriander Chutney to give your taste bud a treat. This gluten-free recipe will cham you and your family. So, let's get started!
Ingredients Required Poha Khasta & Dahi ki Chutney:
Ingredients for Poha Khasta:
Poha - 1 Cup 70 grams
Chickpea Flour - 1 Cup (100 grams)
Green Chilli - 2-3
Ginger - 1-inch baton, grated
Carom Seeds - 1/2 tsp
Dry Fenugreek Leaves - 2 tsp
Red Chilli - 1/2 tsp, Crushed
Turmeric Powder - 1/4 tsp
Green Coriander - 2-3 tbsp
Salt - a little more than 1/2 tsp
Spinach - 1 Cup, chopped
Oil - 2 tbsp
and oil for frying
Ingredients for Green Chutney:
Green Coriander -1 Cup
Salt - 1/2 tsp
Cumin Seeds -1/2 tsp
Ginger - 1/2 inch baton
Green Chilli - 4
Curd - 1/2 Cup
Crispy Poha Khasta & Dahi ki Chutney Recipe:
Poha Khasta Recipe:
To prepare Poha Khasta Nasta, take 1 cup of Poha in a bowl. Rinse and drain the Poha (2 times). Pour ½ cup of water in the Poha so that it can puff-up well. Cover and leave it for 10 minutes.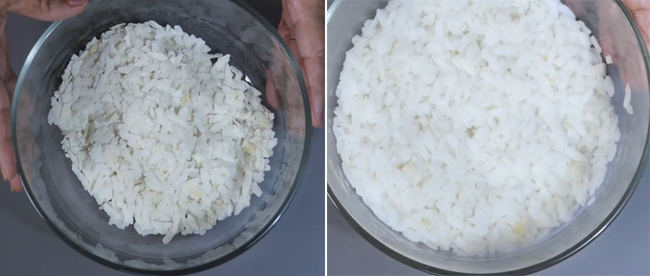 [After 10 minutes]
Mash the Poha to prepare the dough. Once done, add 1 cup besan (save some to use it later), 2-3 finely chopped green chilies, and 1-inch grated ginger to the poha.
Now, add ½ tsp of carom seeds and 2 tsp of dry fenugreek. Add carom seeds and dry fenugreek after crushing them with your hands. It will enhance the taste and aroma of the Khasta.
Next, add ½ tsp of crushed red chili, ¼ tsp of turmeric powder, 2-3 tbsp of finely chopped green coriander, and more than ½ tsp of salt (or as per your taste).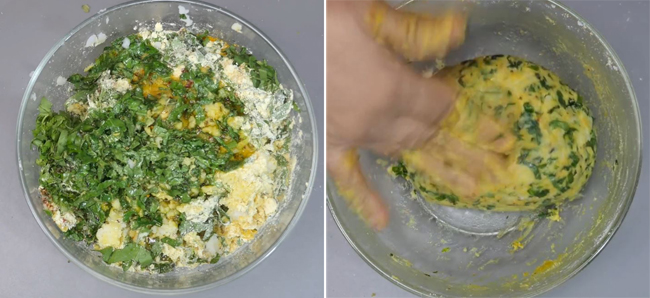 To make Khasta healthy and tastier, we will add 1 cup of chopped spinach. Now, take a pan and heat 2 tbsp of oil in it. Heat the oil and pour it in the prepared mixture. Mix everything well with a spoon.
Once the mixture cools down, use your hands to knead the concoction and prepare the dough. Add saved besan and knead again. Apply a little oil on your hand; knead the dough to make it smooth.
Heat the oil in a Kadhai for frying. On the other hand, break the dough into small equal-sized balls. Apply a little oil in your hands, pick 1-ball, roll, and press (or flatten) it to shape it as Mathri.
The thickness of the Khasta should be medium, neither too thick nor too thin. In the same manner, prepare and assemble all the Khasta.
Once done, drop a piece of dough in the oil to check its temperature. The dough piece is frying well, which means the oil is just about perfect. We need medium-hot oil for frying. The flame should be medium too.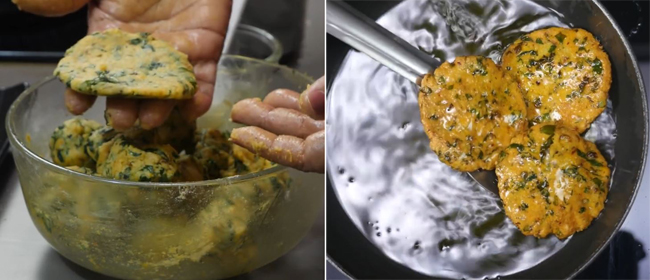 Drop the Khasta in the oil. Once they start coming up to the surface, separate and turn them upside down. Fry them from both sides until golden brown. Keep the flame low-medium.
Once they turn golden brown, take them out and strain the excess oil. Prepare all the Poha Khasta similarly and transfer them to the serving plate. Each batch will take 7-8 minutes.
Dahi-Green Coriander Chutney Recipe:
Take 1 cup chopped green coriander, 4-green chilies, ½ inch ginger baton, ½ tsp of salt, ½ tsp of jeera, ½ cup curd and blend them in a mixer-blender.

Our Curd & Green coriander chutney is ready. Crispy Poha Khasta & Dahi Chutney is ready to be served.
When you want to have a special breakfast, prepare Poha Khasta and serve it with curd or coriander chutney. Enjoy a healthy and tasty breakfast with your family.
पोहा का आसान टेस्टी नाश्ता व धनिये की चटनी । Crispy Poha Nastha & Dahi ki Chutney | No Gluten Recipe

Tags
Categories
Crispy Poha Khasta & Dahi ki Chutney | Special Poha Khasta for Breakfast
Nisha Madhulika
Rating:

5.00

out of

5