Easy way to make tandoori malai chap tikka at home । Soya Malai Chaap Tikka Recipe
Soya Malai Chaap is a dish which is most loved in The Nothern and many parts of Delhi. It is a delicious snack and has a mouth-watering flavor of spices.
Ingredients for Soya Malai Chaap
Soya Chaap - 6 (350 grams)
Curd - 4 tbsp
Cream - 2 tbsp
Butter - 2 tbsp
Green coriander (finely chopped) - 2 to 3 tbsp
Chickpea flour - 2 tbsp
Red chilli powder - 1 tsp
Coriander powder - 1 tsp
Chaat Masala - 1 tsp
Turmeric powder - 1/2 tsp
Garam Masala - 1/2 tsp
Black pepper (freshly crushed) - 1/4 tsp
Dry fenugreek (crushed) - 2 tsp
Mint powder - 1/2 tsp
Black salt - 1/2 tsp
Salt - more than 1/2 tsp
How to make Soya Malai Chaap
Take 6 pieces of pre boiled and cooked Soya Chaap.Chop each of them horizontally into 2 equal sized pieces.Remove their stick and take 4 tablespoons of curd in a bowl.
Whisk the curd well and add 2 tablespoons of cream to it. Add a tablespoon of butter, 2 tablespoons of roasted chickpea flour, a teaspoon of red chilli powder to it and mix well.
Add a teaspoon of coriander powder, a teaspoon of Chaat Masala, a ½ teaspoon turmeric powder, a ½ teaspoon of Garam Masala, a ¼ teaspoon of freshly crushed black pepper, a teaspoon of mint powder, 2 teaspoons of dry fenugreek leaves, a ½ teaspoon of black salt, a ½ teaspoon of salt to it.
Add the Soya Chaap pieces in the marinate and mix well.Keep it aside to set for half an hour. The Chaap is ready to be cooked after half an hour.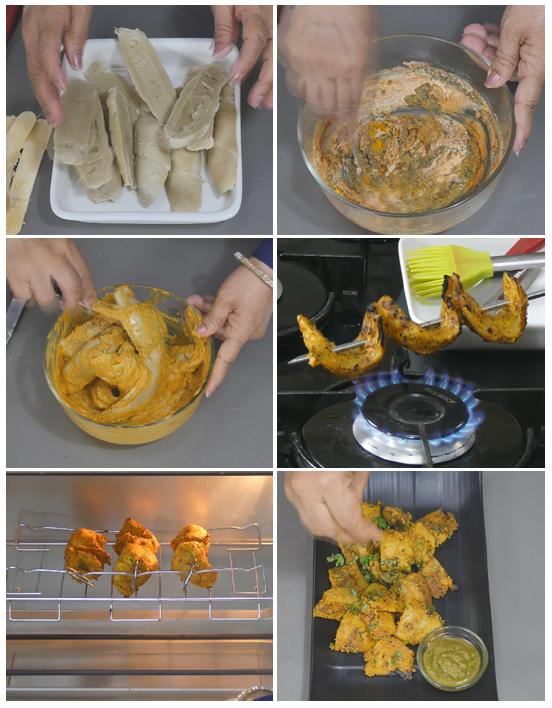 To cook it on the stove
Assemble them in a skewer and switch on the flame. Place it over the flame and cook while rotating it until it has dark spots. Coat it with some butter and again cook it likewise.The Soya Chaap Malai Tikka has cooked.
To bake it in an oven
Assemble all the Soya Chaap in a skewer and them on a wire wrack. Preheat the oven at 230 degrees centigrade and place the rack in it. Bake it in the oven for 10 minutes at 230 degree centigrade.
They have baked after 10 minutes, spread some butter over them and again bake it at 200 degrees centigrade for 2 to 3 minutes. The Soya Chaap has baked well.
To cook it in a non-stick pan
Preheat a pan, add some butter to it and place the Chaaps to cook in it. Keep the flame from low to medium and cook for 2 minutes. Flip it, cook it from the bottom on low to medium flame for 2 to 3 minutes until it becomes brown. The Chaap has cooked well.
For Soya Malai Chaap
Chop the Chaaps into 3 equal sized pieces in a mixing bowl and add a ½ teaspoon of Chaat Masala, a 1/4 teaspoon of salt, some finely chopped green coriander, 2 teaspoons of cream, 1 to 2 teaspoons of butter and mix all ingredients well.
The Chaap has absorbed all the spices, cream and butter well. Soya Chaap Malai Tikka is ready to be served and garnish it with finely chopped green coriander. Serve it along green coriander dip.
तंदूरी मलाई चाप टिक्का घर पर बनाने की आसान विधि । Soya Malai Chaap Tikka Recipe

Tags
Categories
Easy way to make tandoori malai chap tikka at home । Soya Malai Chaap Tikka Recipe
Nisha Madhulika
Rating:

5.00

out of

5