Bati using less ghee | Dal Bati Recipe
Dal Bati using the lesser quantity of Ghee, this recipe is a perfect recipe for those who prefer making dishes using lesser Ghee. It has a unique method of cooking and unique fusion of ingredients too.
Ingredients for Dal Bati
For Bati
Wheat flour -2 cups (300 grams)

Potatoes (boiled) - 4 (300 grams)

Curd - ½ cup

Carom seeds - ½ tsp

Baking soda - ¼ tsp

Salt - 1 tsp

Semolina - ¼ cup (50 grams)
For Dal
Arhar Dal - ½ cup

Split chickpeas - 2 tbsp

Ghee - 2 tbsp

Cumin seeds - ½ tsp

Asafoetida - ½ tsp

Turmeric powder - ½ tsp

Curry leaves - 10 to 12

Red chilli powder - ½ tsp

Coriander powder - 1.5 tsp

Tomato - 2

Green chilli - 2

Ginger baton - ½ inch

Green coriander (finely chopped) - 1 to 2 tbsp

Salt - 1 tsp
How to make Dal Bati
Blend a ¼ cup of semolina with a ½ cup of curd. Take 4 potatoes, peel and grate them. Take 2 cups of wheat flour in a bowl, add a teaspoon of salt to it. Add a ½ teaspoon of carom seeds after crushing to it.
Add a ¼ teaspoon of baking soda to it and mix all the ingredients well. Mix the fermented semolina with it along with grated potatoes. Mix and knead all ingredients well. Use 1 to 2 teaspoon of water to knead it.
Divide the dough into the smaller sized dough lumps while applying some clarified butter on your palms. Take an oven tray, spread a butter paper over it and coat it with clarified butter over it. Preheat an oven on 250 degrees centigrade for 5 minutes.
Grease your palms with clarified butter and roll the dough lump between your palms. Press to flatten it and hollow it from the centre. Place Batis on the oven tray and place Batis inside the oven for baking them.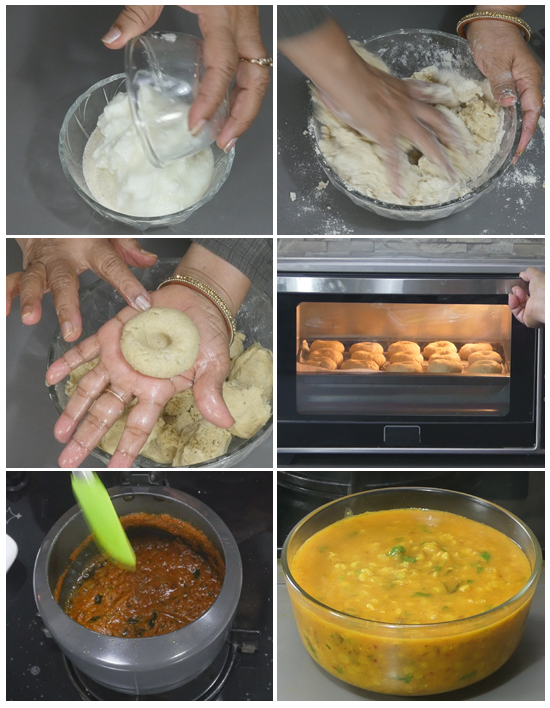 Add 2 teaspoon of clarified butter in a pressure cooker and add a ½ teaspoon of cumin seeds to it. Roast while stirring it and add a ½ pinch of asafoetida to it. Add 10 to 12 curry leaves after breaking them. Add a ½ teaspoon of turmeric powder and a teaspoon of coriander powder to it.
Add the paste of 2 tomatoes, 2 green chillies and a ½ inch of the ginger baton to it. Add a ½ teaspoon of coarsely ground red chilli to it. Stir and roast on medium flame until clarified butter separates from it.
After roasting the Masala mixture, add a ½ cup of soaked Arhar Dal and 2 tablespoons of soaked split chickpeas to it. Stir and roast for 1 to 2 minutes. Add water to it along with a teaspoon of salt to it.
Close the lid of the cooker and turn the flame to high. Cook until the whistle blows, turn the flame to low after a whistle has blown. Cook on low flame for 4 minutes. Take out the Batis after 4 minutes from the oven.
Switch off the flame of pressure cooker after 4 minutes, Coat the Batis with clarified butter. Open the lid of the cooker and mix some chopped green coriander with it. Pour both the dishes on a serving plate and serve them.
थोडे से घी से बनी सॉफ्ट बाटी, साथ में मिक्स दाल । Bati using less ghee | Dal Bati Recipe

Tags
Categories
Bati using less ghee | Dal Bati Recipe
Nisha Madhulika
Rating:

5.00

out of

5