Chawal ke fare | Rice Fara Recipe | Steamed Fara | Fried Fara
Rice Fara is a traditional dish of northern India, it is easier to make and this dish consumes the lesser quantity of oil. It has a lip-smacking taste and it's every bite melts in the mouth instantly.
Ingredients for Rice flour Fara
Rice flour - 1 cup (200 grams)

Split chickpeas (soaked) - ¼ cup (50 grams)

Urad dal - ¼ cup (50 grams)

Green chilli (finely chopped) - 3 to 4

Ginger paste - 1 tsp

Red chilli powder - 0.75 tsp

Green coriander (finely chopped) - 2 to 3 tbsp

Turmeric powder- ¼ tsp

Coriander powder - 1 tsp

Cumin seeds -¼ tsp

Mustard seeds - ¼ tsp

Ghee - 1 tbsp

Salt - 1.25 tsp

Oil - 1 tbsp
How to make rice flour Fara
For the dough
Take a vessel, add a cup of water in it and boil it. Add 2 teaspoons of clarified butter along with a ½ teaspoon of salt to it. After it has reached its boiling point, switch off the flame. Add a cup of rice flour to it and mix well.
For the stuffing
Soak a ¼ cup of split chickpeas, a ¼ cup of Urad Dal for 3 to 4 hours in the water. After 3 to 4 hours, grind the soaked Dals coarsely ground. Add 2 finely chopped green chillies, a teaspoon of ginger paste, a ½ teaspoon of red chilli powder, a ¼ teaspoon of turmeric powder to it.
Add a teaspoon of coriander powder, some chopped green coriander, a ½ teaspoon of salt to it. Mix all the ingredients well and the stuffing is ready.
For assembling the Fara
Pour the dough in a plate and apply some clarified butter on your palms. Mash the dough until it reaches to its soft texture. While mashing it, use 3 to 4 teaspoons of water for it. Divide the dough into smaller sized dough lumps and roll a dough lump between your palms.
Press to give it a shape of Peda and coat it with dry rice flour. Flatten the dough lump thickly into a diameter of 3 to 4 inches. Cut it using a cap of container or glass. Hold the flattened dough in your palm and place some stuffing over it. Fold it and assemble all the Faras likewise.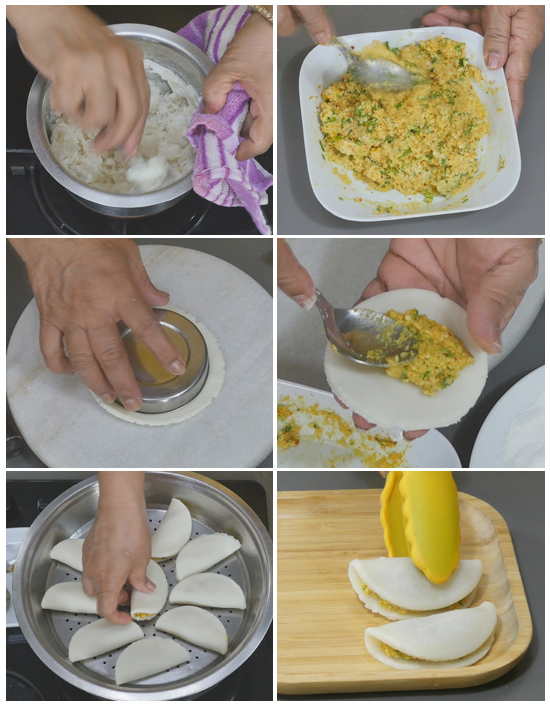 For steam cooking the Fara
Preheat 2 to 3 cups of water in a vessel, place a strainer over it and grease it with oil. Place some Fara over the strainer and cook while covering it for 10 minutes on medium to high flame. The Faras has steamed cooked after 10 minutes.
For frying the Fara
Preheat a pan and chop the rest of Faras twice or thrice. Add a tablespoon of oil in it and heat it. Add a ¼ teaspoon of mustard seeds to it on low flame. Add a ¼ teaspoon of cumin seeds, finely chopped green chillies to it.
Add a ¼ teaspoon of salt, red chilli powder and some green coriander to it. Add the chopped pieces to it and roast for 1 to 2 minutes. After 2 minutes, the Fara has become crispy and it has cooked. Serve it along with green coriander to enhance its taste. 16 Faras can be made from a cup of rice flour.
Suggestions
Use 1 or 2 teaspoons of water while mashing the dough if it appears stiff.
You can use a steamer to steam it.
Chawal ke fare | बिना तेल के भाप में बने चावल के फरे । Rice Fara Recipe

Tags
Categories
Chawal ke fare | Rice Fara Recipe | Steamed Fara | Fried Fara
Nisha Madhulika
Rating:

5.00

out of

5