Stuffed Cottage Cheese | Stuffed Paneer Bhatura
Bhatura is a most loved recipe of India, it is enjoyed with curry of Chole at a wide level. This recipe of Bhatura is slightly unique because it is stuffed with cottage cheese.
Ingredients to make stuffed Bhatura
Refined flour - 2 cups (250 grams)

Curd - ¼ cup

Oil - 2 tbsp

Sugar - 1 tsp

Salt - 1 tsp

Baking soda - ¼ tsp

Cottage cheese - 150 grams

Black pepper (freshly crushed) - ½ tsp

Red chilli flakes - ½ tsp

Coriander flakes - 1 to 2 tsp

Oil - for frying
How to make stuffed Bhatura
Take 2 cups of refined flour in a bowl and add a ¼ cup of curd to it. Add a teaspoon of sugar, a ½ teaspoon of salt, a ¼ teaspoon of baking soda, add 2 teaspoons of oil to it. Use a ½ cup of lukewarm water and knead the soft dough.
Apply some oil on your palms and knead the soft dough. After kneading the dough, cover and keep it aside to set for 2 hours. The dough has fermented after 20 minutes.
Apply some dry flour on your palms and punch the dough. Take some dry flour and divide the dough into two equal portions. Again, divide its half into the three equal portions. Prepare the round-shaped dough lumps and divide the other half into three equal parts too.
Preheat oil in a wok to fry the bhaturas. For the stuffing, take 150 grams of cottage cheese and grate it finely. Add a ½ teaspoon of salt, a ½ teaspoon of freshly crushed black, a 1/2 teaspoon of coarsely ground dry red chilli and 1 to 2 tablespoons green coriander to it.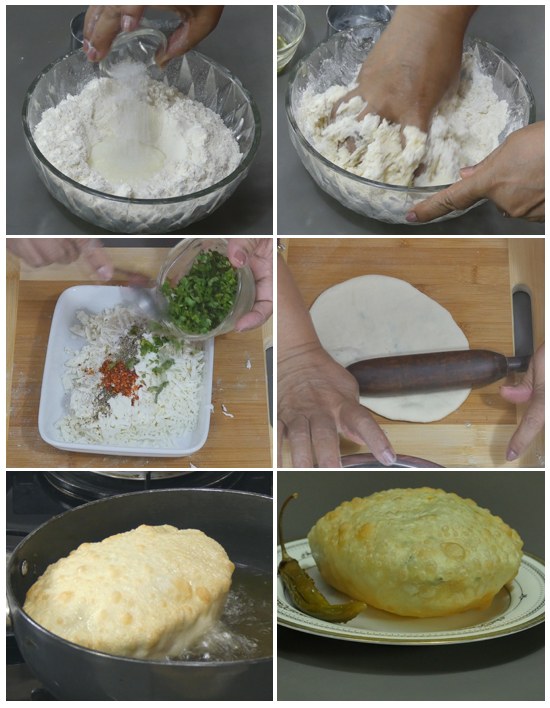 Lift a dough lump, cover the rest of dough lump and coat it with dry flour. Expand it into the diameter of 3 to 4 inches and place some stuffing over it. Lift and seal the stuffing from all sides well.
Press it with fingers and spread the stuffing evenly. Dust it with dry flour and press it again with the fingers. Expand it into your desired shape and dab it using your hands. Do not flatten it too thinly otherwise, it will split.
To fry it, extremely heated oil is required and high flame too. Add a Bhatura to fry in the heated oil and press it with the ladle. Flip it and fry Bhatura from another side until brown. After frying the Bhatura, drain it out of the wok and fry all the Bhatura likewise.
Cottage cheese stuffed Bhatura is ready to be served. Serve it along with Chola, curry, dip or pickle.
दिल्ली के खास पनीर वाले भटूरे घर पर बनायें | Paneer Bhatura Banane ki recipe

Tags
Categories
Stuffed Cottage Cheese | Stuffed Paneer Bhatura
Nisha Madhulika
Rating:

5.00

out of

5