Mango Malai Khandvi Roll । Sweet Mango Khandvi Recipe
Sweet mango Khandvi is a fusion of the traditional recipe of Khandvi and mango. It can be stored for a longer period of time and it can be eaten cold with cold mango milk which is delicious to eat.
Ingredients for mango Khandvi/coconut mango Khandvi
Chickpea flour - ½ cup

Mango pulp - ½ cup

Sugar - 2 tbsp

Condensed milk - 2 tbsp

Sugar powder - 2 tbsp

Desiccated coconut - 4 tbsp

Pistachios (finely chopped) - 7 to 8

Cardamom powder - ½ tsp

Milk - 2 tbsp
How to make mango Khandvi
Take a ½ cup of chickpea flour, add a ¼ cup of mango pulp to it and mix well. Add it in a grinder jar along with 1.25 cups of water to dissolve its lumps. Add the paste in a pan and cook while continuously stirring it on medium flame.
Add 3 teaspoons of sugar to it and cook while stirring it furiously. Stir and cook until it starts boiling. After boiling it, cook it for more than 10 minutes. Use some plate and spread the batter over them thinly using a flat spatula.
Cover the remaining batter to avoid it from reaching to its thicker consistency. Keep the plates aside to set for 10 minutes. Chop it into pieces of 1.5 to 2 inches after it has set. Separate the Khandvi using a knife and roll to fold it.
Take 2 to 3 tablespoons of mango pulp, add 2 tablespoons of condensed milk and some sugar to it. Add 2 tablespoons of milk to it for rectifying its consistency and mix it well.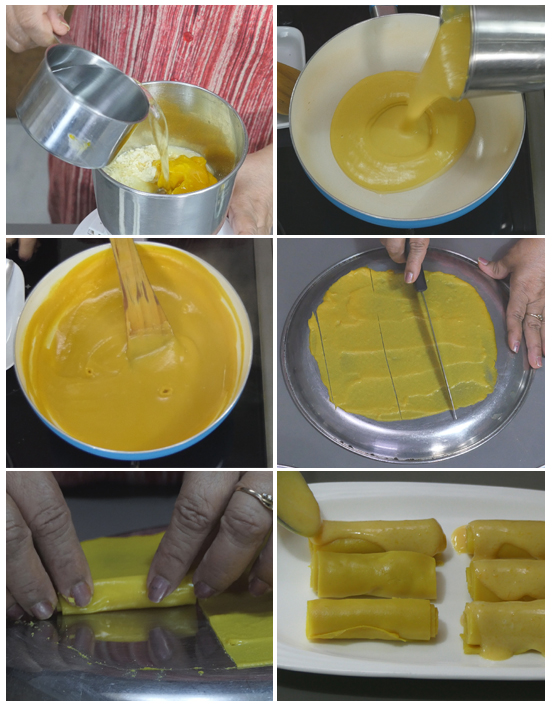 Serving
Spread some mango milk over them and garnish it with some finely chopped pistachios. The mango Khandvi is ready to be served.
How to make coconut Khandvi
Cook the mixture as per the above-given recipe. Spread the mixture on the plate and garnish with desiccated coconut, cardamom and sugar powder.
Set and roll the Khandvis likewise. Spread the mango, chopped pistachios and serve it. The coconut mango Khandvi is ready to be served.
Suggestions
You can use homemade cream (Malai) instead of condensed milk.
आम की मीठी मलाई खांडवी । Mango Malai Khandvi Roll । Sweet Mango Khandvi Recipe

Tags
Categories
Mango Malai Khandvi Roll । Sweet Mango Khandvi Recipe
Nisha Madhulika
Rating:

5.00

out of

5