Khandvi recipe in English | How To Make Khandvi At Home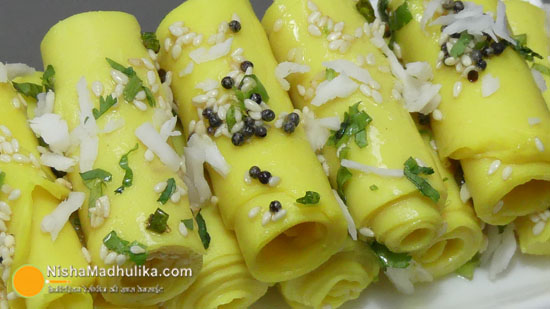 It is a recipe which belongs to Rajasthan and easier to prepare.
Ingredients for Khandvi
Chickpea Flour - ½ cup (60 gms)

Whisked Curd - ½ cup

Salt - ½ tsp or to taste

Turmeric Powder - less than ¼ tsp

Ginger Paste - ½ Tsp

Oil - 2 Tsp

Green Coriander - 1 tbsp (finely chopped)

Fresh Coconut - 1 to 2 tbsp (grated)

Sesame Seeds - 1 tsp

Balc Mustard Seeds - ½ tsp

Green Chilli - 1
How to make Khandvi
Take a ½ cup of chickpea flour in a bowl, add a ½ cup of whisked curd, a ½ teaspoon of salt, a ½ teaspoon of ginger paste, less than ¼ teaspoon of turmeric powder, a cup of water in intervals to it. Stir and mix it well for dissolving the lumps in the paste.
After making the paste, preheat a pan and add the paste in it. Cook the paste for 4-5 minutes in it until it appears thick. After cooking it, switch off the flame and place the plate upside down near the stove.
Add some paste on the corner of the plate and cover the remaining paste to avoid it from cooling down quickly. Spread the paste on the plate into the layers using a spatula. Spread the whole paste on the different plates individually.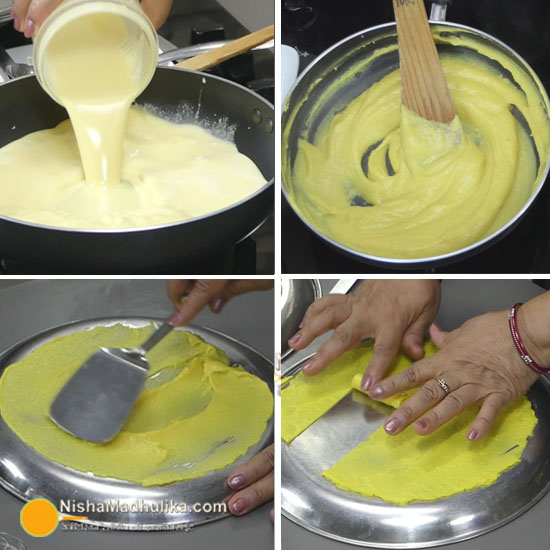 Keep it aside to cool down for cutting and folding after the 5-6 minutes. Khandvi has set. Now, we will cut it. Lift the khandvi from the corners using a knife, roll it using your fingers. Make rolls of the whole khandvi by rolling and cutting it.
Preheat the pan for the tempering. Add 2 teaspoon of oil in the pan and heat it. Add a 1/2 teaspoon of black mustard seeds, 1 teaspoon of sesame seeds and saute them. Add 1 finely chopped green chilli and spread the tempering on the Knadvis. Add 1 tablespoon of the grated coconut, finely chopped green coriander and Khandvi is ready to be served.
खांडवी बनाने की विधि | Khandvi recipe in Hindi | How To Make Khandvi At Home

Tags
Categories
Khandvi recipe in English | How To Make Khandvi At Home
Nisha Madhulika
Rating:

5.00

out of

5