Tips and Tricks for Street Style Samosa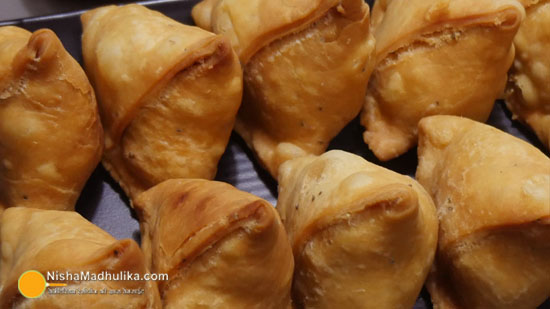 The tips and tricks in this recipe will help you to make perfect Samosa without facing any difficulty.
Ingredients for Samosa
For the stuffing
Potato - 4 (400 gms) (boiled)

Green peas - 1/2 cup

Green coriander - 2 to 3 tbsp

Green chilli - 2 to 3 (finely chopped)

Ginger - 1 inch (grated)

Coriander powder - 1 tsp

Cumin Powder - 1/2 tsp

Mango powder - 1/4 tsp

Red chilli powder - 1/2 tsp

Garam Masala - 1/2 tsp

Salt - 3/4 tsp

Oil - for frying
For the dough
Refined Flour -2 cups (250 gms)

Carom seeds - 1/2 tsp

Oil - 4 tbsp (60 gms)

Salt - 1/2 tsp
How to make Samosa
For the dough
Take 2 cups of refined flour in a bowl, add a 1/2 teaspoon of salt, a 1/2 teaspoon of carom seeds after crushing it, 1/4 cup of oil to it and mix all the ingredients well. Add less than 1/2 cup water in intervals and knead the stiff dough. Knead the dough stiffer than the dough of Poori. Cover and keep the dough aside to set for 20-25 minutes.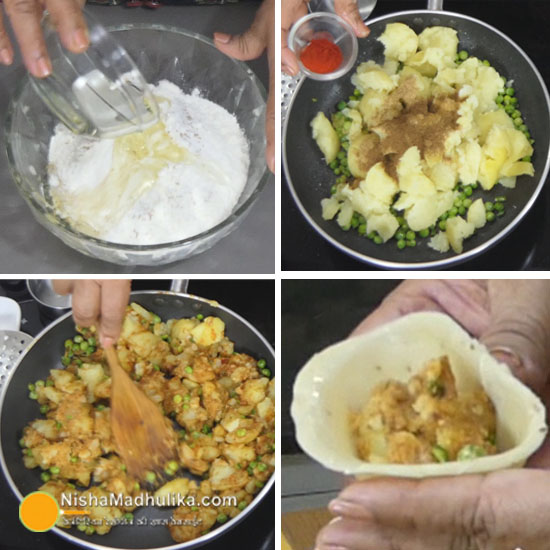 For the stuffing
Take 4 boiled potatoes, peel and mash them. Preheat a pan and add a tablespoon of oil in it. Add a teaspoon of grated ginger, 2 to 3 finely chopped green chillies to it and saute it. Add a 1/2 teaspoon of cumin powder to it and roast it along with the Masala mixture.
Add 1/4 cup of peas to it and saute it. Add a tablespoon of water to it and cook while covering it for 2 minutes. The peas have become soft after 2 minutes. Turn the flame to medium and add the mashed potatoes to it.
Add a teaspoon of coriander powder, a 1/2 teaspoon of red chilli powder, a 1/2 teaspoon of mango powder, a 1/2 teaspoon of Garam Masala, 3/4 teaspoon of salt to it and roast while stirring it for 2 to 4 minutes.
After 4 minutes, add finely chopped green coriander to it. Switch off the flame and pour it in a bowl to cool down.
To make Samosa
Mash the dough after 20 minutes and divide the dough into the smaller sized lumps. Roll it into a round shaped ball and expand it vertically in an oval shaped dough. Flatten the dough from all the corners and flatten it thinly.
Chop it into the two equal halves from the centre. Apply some water on its straight portion and press it using your finger along with your thumb. Give it a shape of a cone and keep it empty from the top. Do not fil it extensively.
Apply water on its corner and stick the front portion with the back portion. Press to make it thinner and leave it to rest for half an hour. Preheat oil in the wok after half an hour, the lesser heated oil is required to fry the Samosa.
Turn the flame to low and the Samosa to fry. Fry on the low flame for 5-6 minutes and do not touch them in the process. After frying them on the low flame for 6 minutes, flip them. Turn the flame from low to medium and fry until they appear brown.
Drain them our once they have fried and stopped the ladle on the corner of the wok so that extra oil moves back in it. Fry all the Samosas likewise. You can serve it along with sweet tamarind dip or green coriander dip.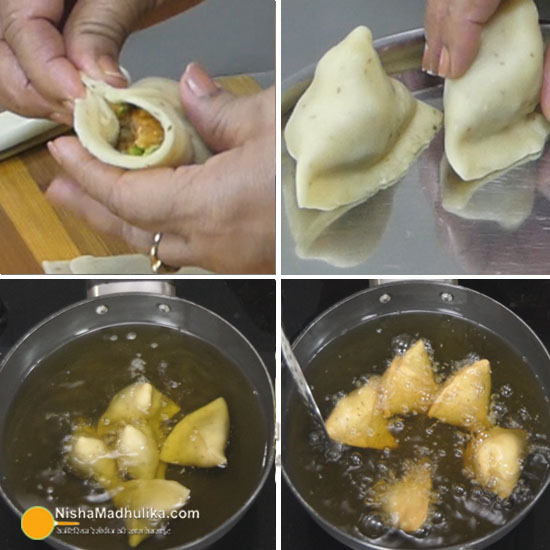 Tips
1- Why do we add Moyan?
It helps to make the covering crispy and tasty.
2- How much quantity of Moyan is required?
If you have a cup of refined flour then, add 2 tablespoons of oil to it. For example: If you have 125 gms of refined flour then, add 30 gms of oil to it.
3- To avoid the bubbles formation over it, knead the stiffer dough and rest the dough for half or one hour after assembling to make it humid.
4- Firstly, fry it on the low flame for 5-6 minutes.
5- Why do Samosas become soggy?
Roast the stuffing well to make it dry otherwise, samosa become soggy.
6- Why does Samosa split?
There are two reasons for it, if you won't seal it properly after applying water on it then, it might split while frying. Second thing is that, do not touch them with the ladle while frying in the beginning.
Suggestions
You can use any variety of oil for the Moyan.
7 टिप्स जिनसे समोसे बनाने में कैसी भी प्रॉब्लम नहीं होगी । Tips and Tricks for Street Style Samosa

Tags
Categories
Tips and Tricks for Street Style Samosa
Nisha Madhulika
Rating:

5.00

out of

5