Ready-mix Gulad Jamun | Instant Gulab Jamun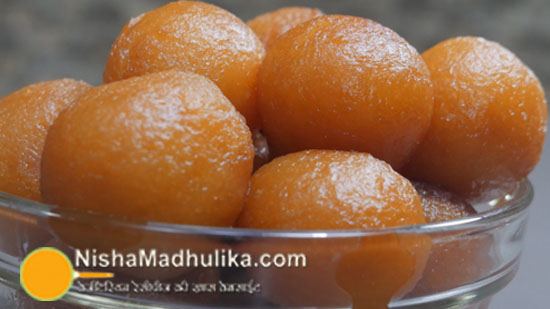 It is an instant and quick recipe of Gulab Jamun which is less time-consuming.
Ingredients for ready-mix Gulab Jamun
Ready-mix gulab jamun - 1 packet (175 gms)

Sugar - 3 cups (800 gms)

Green cardamoms powder - 4

Ghee - for frying
How to make ready-mix Gulab Jamun
For the dough
Take 1 packet of the ready-mix gulab jamun mixture and pour it in a bowl. Add less than 1/2 cup water in it and mix it. Apply some ghee on your palms and knead the smoother dough. Cover and keep it aside for 10 minutes.
For sugar syrup
Add 3 cups of sugar, 3 cups of water and cook until sugar dissolves in it. Stir it in the intervals and its consistency should be slightly sticky. Add 4 crushed green cardamoms and leave the sugar syrup for 2 to 3 minutes to boil. After, 3 minutes the sugar syrup has cooked.
To make Gulab Jamun
Take some clarified in a wok and melt it. Apply some ghee on your palms and again, knead the dough. Divide it into the smaller sized dough lumps. Grease your hands with ghee, take a dough lump and roll it.
Prepare a smooth round ball there shouldn't be any cracks in it. Prepare the balls and place them on the plate. Put a piece of some dough in the heated ghee to check its temperature. Moderately heated oil is required to fry the gulab jamuns.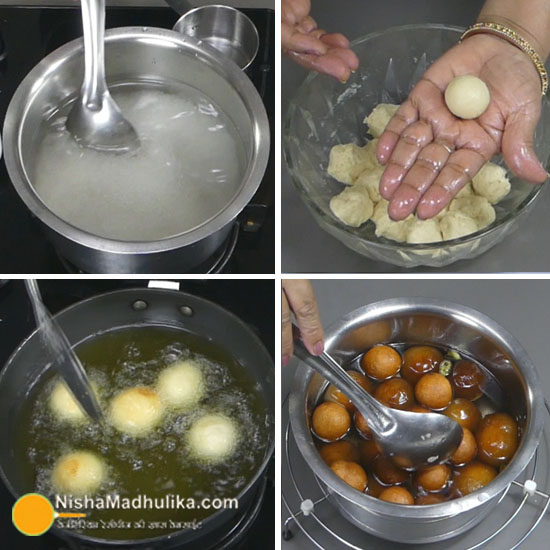 Add the gulab jamuns to fry on the low flame. Flip them once they have fried from the bottom. Stir the clarified butter to rotate the gulab jamun and fry until they are golden brown. Now, we can stir them directly using the ladle.
Drain them out once they are golden brown from all the corners. Add the Gulab jamuns in the warm sugar syrup. It takes 8-9 minutes to fry one round of gulab jamuns and dip the Gulab Jamun well in the sugar syrup for 4 hours. The gulab jamuns have absorbed the sugar syrup and they are ready to be served.
Suggestions
The threaded sugar syrup isn't required for this recipe.
We took ghee to fry the gulab jamuns but, you can use the refined oil also.
You can increase and decrease the quantity of gulab jamun according to your choice.
Never place the ladle directly over the gulab jamuns.


गुलाब जामुन रेडी मिक्स से झटपट बनायें । Gulab Jamun with instant mix

Tags
Categories
Ready-mix Gulad Jamun | Instant Gulab Jamun
Nisha Madhulika
Rating:

5.00

out of

5