Dahi Paneer Roll Recipe |
It is a unique snack to fulfil the hunger strike
Ingredients for Dahi Paneer bread roll
White bread - 10 slices

Hung curd - ½ cup

Paneer - ⅓ cup (50 gms)

Capsicum - 1 (finely chopped)

Carrot - 1 (finely chopped)

Baby corn - 2 (finely chopped)

Green coriander - 2 tbsp (finely chopped)

Green chillies - 1 to 2 (finely chopped)

Ginger - ½ inch piece (finely chopped)

Black pepper - ¼ tsp or 8 to 10 (coarsely ground)

Salt - ½ tsp

Oil - for frying
How to make Dahi Paneer bread roll
Take a cup of fresh curd, tie and hang it in a cotton cloth for 2 hours. The water will separate from it and the remaining thick curd will stay in the cloth itself. Add the remaining curd in a bowl and mix 50 gms of crumbled paneer.
Add a finely chopped capsicum, 2 finely chopped baby corn, a finely chopped carrot, 2 tablespoons of finely chopped green coriander, 1 to 2 finely chopped green chillies, a 1/2 inch of finely chopped ginger, 1/4 teaspoon of coarsely ground black pepper, a 1/2 teaspoon of salt to it and mix all the ingredients well. The stuffing is ready.
Take 10 bread slices and chop their dark edges from all the sides. Preheat oil in a wok and add some water in a plate. Lift a slice, dip it in the water and remove it. Place it between both of your palms and press to remove its extra water. Remove bread from the water instantly otherwise, it will split.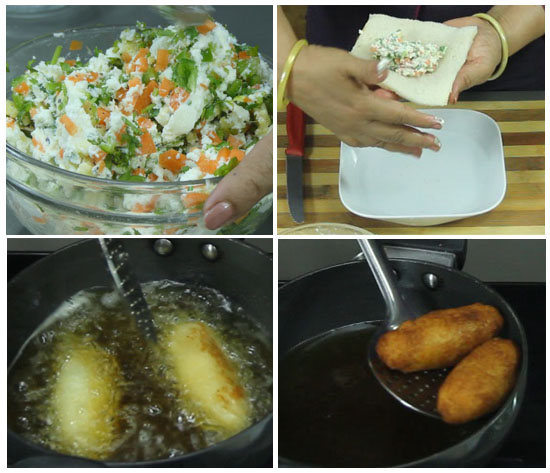 Place some stuffing on the bread slice and fold to make its roll. Press and make the roll by pressing between your palms. Prepare all the bread rolls likewise. Add it to fry in the wok and fry while flipping it. Fry till it appears golden brown. It has become golden brown
Drain it out of the wok using a strainer. Place it on the tissue paper because it will help to absorb the remaining oil. Fry all the bread roll likewise and 4 minutes are utilized to fry the single round of bread roll. The Dahi Paneer bread roll is ready to be served. You can serve it with green coriander dip, tomato sauce, sweet tamarind dip or any desired dip.
Suggestions
You can replace the veggies with cabbage or sweet corn. You can even decrease the quantity
of veggies according to your taste.
You can utilize the corners of the bread by making their bread crumbs.

Dahi Paneer Roll Recipe | दही और पनीर से झटपट बनने वाले ब्रेड रॉल

Tags
Categories
Dahi Paneer Roll Recipe |
Nisha Madhulika
Rating:

5.00

out of

5