Rajma Galouti Kebab | Red Kidney Bean Kebab | Kidney beans cutlets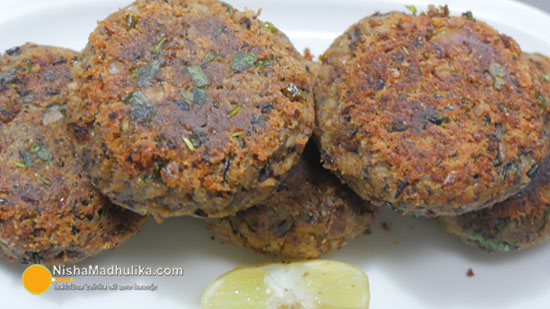 Rajma Kabab is rich in proteins and is a great starter for any occasion
Ingredients for Rajma Cutlets
White Rajma - ½ cup (100 gms)

Red Rajma - ½ cup (100 gms)

Potatoes - 2 (200 gms) (boiled)

Oil - 2 to 3 tbsp

Green Coriander - 2 to 3 tbsp

Ginger Juvillene - ½ inch

Green Chilli - 2 (finely chopped)

Chaat Masala - 1 tsp

Coriander Powder- 1 tsp

Cumin Seeds Powder - 1 tsp

Red Chilli Powder - ½ tsp

Garam Masala - ½ tsp

Salt - 1 tsp
How to make Rajma Cutlets
Take a ½ cup of White and Red Rajma, soak them in the water for 8-10 hours. Add both of them in the cooker along with a ½ cup of Water, a ¾ teaspoon of Salt and mix them. Close the lid and boil until the first whistle arrives.
Turn the flame after the first whistle and cook for more 3 minutes. Switch off the flame after 3 minutes and wait until its pressure releases. Open the lid once pressure has released and drain them on a strainer placed over a bowl. Grate 2 boiled potatoes and grind the boiled Rajmas after cooling them down.
Add ground Rajmas in the grated potatoes and mix them. Add 2 to 3 tablespoon of finely chopped Green Coriander, ½ inch of Ginger julienne, 2 finely chopped Green Chilli, 1 teaspoon of Coriander Powder, 1 teaspoon of Chaat Masala, 1teaspoon of roasted Cumin Seeds Powder, ½ teaspoon of Red Chilli Powder, ½ teaspoon of Garam Masala, ¼ teaspoon of Salt to the mixture and mix them.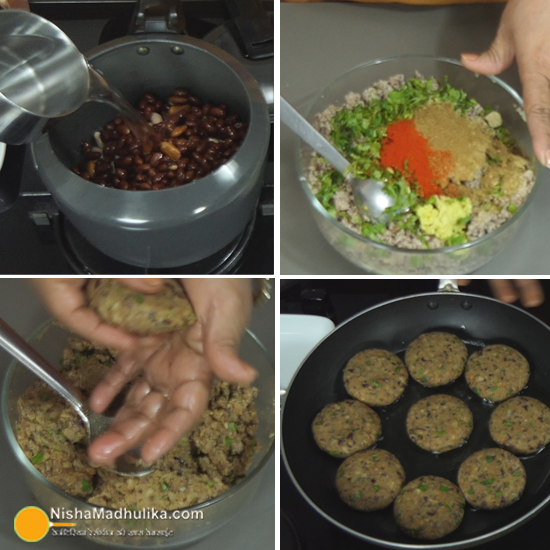 Apply some Oil on your palms, lift a dough lump and roll to bind it. Roll it into a round ball and press to flatten it. Preheat a non-stick pan, spread 2 tablespoons of oil over it. Place the cutlets on the pan to fry on the medium flame until they are Golden Brown from the bottom.
Flip and fry them till they are Golden Brown from the bottom. Fry them until they are Golden Brown from both the sides. Drain fried cutlets from the pan and place them on a plate. Rajma Cutlets are ready to be served. You can serve them with Green Coriander dip or tomato sauce.
Suggestions
You can use ginger paste instead of ginger julienne.
Rajma Galouti Kebab | राजमा के कबाब - कटलेट्स । Red Kidney Bean Kebab

Categories
Rajma Galouti Kebab | Red Kidney Bean Kebab | Kidney beans cutlets
Nisha Madhulika
Rating:

5.00

out of

5