Tawa Roasted Veg Pitor Katli Tikka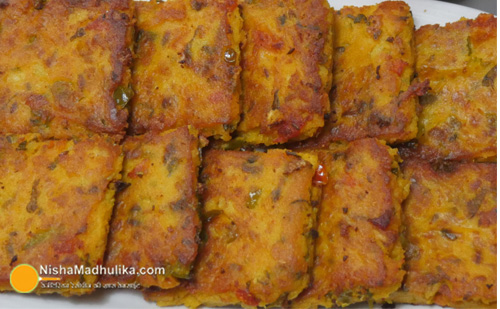 Veg Pitor Tikka cooked in the lesser amount of oil and along with many veggies taste scrumptious and it is good for health too.
Ingredients for Tawa roasted veg pitor katli tikka
Chickpea Flour - 1 cup (100 gms)

Capsicum - 1 cup (finely chopped)

Cauliflower - 1 cup (finely chopped)

Tomatoes - 1 (finely chopped)

Oil - 3 to 4 tbsp

Green Coriander - 2 to 3 tbsp (finely chopped)

Turmeric Powder - ½ tsp

Cumin Seeds - 1 tsp

Asafoetida - ¼ pinch

Red chilli Powder - ½ tsp

Coriander Powder - 1 Tsp

Ginger Paste - ½ Tsp

Salt - 1/2 tsp (or to taste)
How to make Tawa roasted veg pitor katli tikka
Take 1 cup of chickpea flour in a bowl, add 1 cup of Water to it and dissolve its lumps. Add 1.5 cups of Water to it and prepare the smoother paste.
The smoother Chickpea Flour paste is ready, add 1 teaspoon of Salt, ½ teaspoon of Cumin Seeds, 1/4 teaspoon of Red chilli powder, 1 teaspoon of Coriander Powder, 1/2 teaspoon of Ginger Paste, 1/2 teaspoon of Turmeric Powder, 2 finely chopped deseed Green Chillies, 2 tablespoons of Finely chopped Green Coriander, 1 finely chopped Capsicum, 1 cup of finely chopped Cauliflower, 1 finely chopped deseed Tomato for the batter.
Preheat the pan, add 2 teaspoons of Oil and heat it. Add the batter in it and cook while continuously stirring it on the high flame for 5 minutes. Turn the flame to medium, stir it to make it thicker.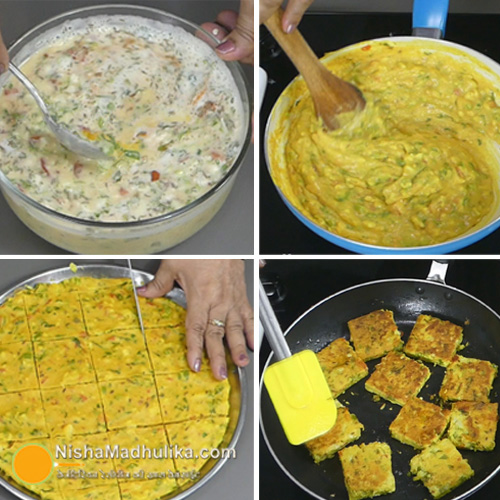 The batter appears rightly thick. Now, we will set it. Add the batter in a plate and spread it evenly. Store it in a cold place or beneath the fan to set.
Pitor has set after 10 minutes, cut it into the pieces. Preheat a Non-stick pan along with 1 tablespoon of Oil. Spread it evenly and leave the pan to heat. Add pieces in the wok to fry on the medium flame. They appear light Brown from the bottom so flip them.
You can spread Oil over them if required and fry until they are Golden Brown from both the sides. Pieces have rightly fried from both the sides so drain them out. Veg Pitor Snack is ready to be served. You can serve them with Tomato Sauce or Green Coriander Dip.
Suggestions
You can increase or decrease the quantity of red chilli powder according to your taste.
You can take any veggie according to your taste or you can add Onion.
एकदम कम तेल में बना वेज पिटौर टिक्का - Tawa Roasted Veg Pitor Katli Tikka

Tags
Categories
Tawa Roasted Veg Pitor Katli Tikka
Nisha Madhulika
Rating:

5.00

out of

5