Makka Paratha Recipe । Maze Flour Parantha । Makka Laccha Paratha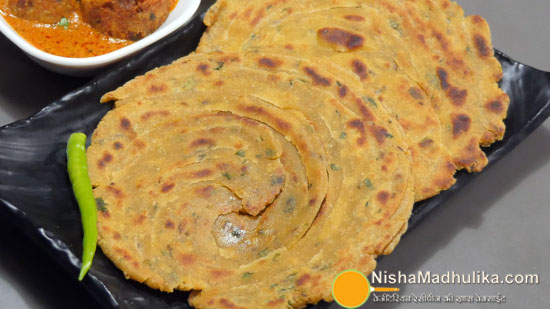 Makka Laccha Paratha is a recipe of Paratha which is fused with a great combination of two varieties of flavour
Ingredients of Makka Laccha Paratha
Maize Flour - 1 cup (150 gms)
Wheat Flour - 1 cup (150 gms)
Green Coriander - 1 to 2 tbsp (finely chopped)
Ghee - 2 to 3 Tsp
Green chilli - 1 (finely chopped)
Cumin Seeds -½ tsp
Salt - ¾ tsp or as per taste
Oil - 1 to 2 Tsp
How to make Laccha Makka Paratha
For the dough, take 1 cup of Maize flour in a bowl along with 1 cup of Wheat flour, ¾ teaspoon of Salt, 1/2 teaspoon of Cumin Seeds, 1 finely chopped Green Chilli, 1 to 2 tablespoons of finely chopped Green Coriander, 1 to 2 teaspoons of Oil and mix them.
Knead the dough which is not stiffer or softer by adding 1 cup of water in the intervals. Prepare the dough as similar as regular paratha.
Cover and set the dough for 15-10 minutes then, we will make paratha from it. After 20 minutes, the dough has set. Apply some clarified butter on your palms to grease them and mash the dough softly.
Preheat a griddle, divide a dough lump, roll the dough lump and press to flatten it. Roll it in the dry flour, flatten it thinly using a rolling pin. Apply some clarified butter on the expanded Chappati and spread it evenly in the same way.
Cut it into the thinner sized slices and join these slices step by step. Combine all the slices and roll their ends. Stick the end to its upper portion, roll it in the dry flour and flatten it into a round shaped chappati.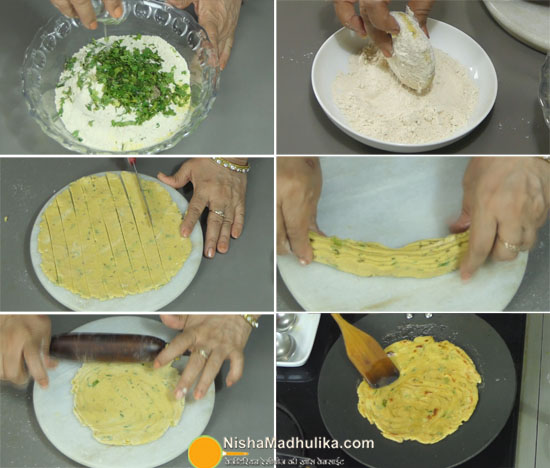 Toss it to remove the extra dry flour and place on the heated griddle. Spread some clarified butter on the griddle evenly on the medium flame. Cook paratha from the bottom until light brown.
Apply some clarified butter on the upper portion and spread it. Flip it and spread some clarified butter on another side. Cook the Paratha until golden spots appear on both the sides. It was cooked to golden brown from both the sides. Cook and fry all the parathas likewise.
You can serve them with Dip, Pickle, Curd or anything you desire. In case some parathas remain then, you can eat them the next day while enjoying there taste in the same manner.
Suggestions
You can decide the size of Paratha according to your choice
Do not flatten it too thinly but, flatten it as similar as Chappati.
You can use Oil instead of clarified butter for it.
Makka Paratha Recipe | सर्दियों का खास मक्के के लच्छा परांठा । Maze Flour Parantha

Tags
Categories
Makka Paratha Recipe । Maze Flour Parantha । Makka Laccha Paratha
Nisha Madhulika
Rating:

5.00

out of

5