Bengali Sweet Malai Chop Recipe । Chena sandwich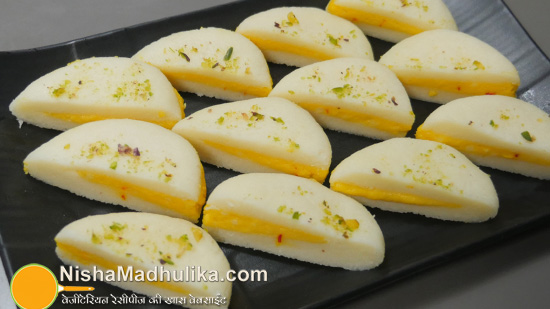 Chena sandwich is a sweet dish which has amazing flavor and melts in the mouth so smoothly.
Ingredients for Chena sandwich
Cow Milk- 1.5 Ltr
Lemon- 2
Sugar- 1.5 cups (350 gms)
Mawa- 1 cup (200 gms)
Saffron- 30 to 40 thread
Boora- 3 tbsp
Refined Flour- 1 tbsp
Pistachios- 10 to 15 (grated)
How to make Chena sandwich
For chena
Take 1 litre of cow milk in a bowl and boil it while continuously stirring it. As the milk boils switch off the flame and leave it aside to slightly cool down for 4 minutes. Separate 2 tablespoons of boiled milk in a mini bowl and add 30 to 40 saffron strands in it.
Extract 2 tablespoons of lime juice from lemons and add 2 tablespoons of water in it. Add the lemon juice mixture in the lukewarm milk and mix it to curdle the milk. Stir it until Chena separates from it. Place a strainer on the bowl and spread a cotton cloth over it to filter the prepared Chena. Pour the curdled milk on the cotton cloth to separate chena form it.
Lift the cotton cloth to separate the whey milk from Chena and squeeze it. Wash the filtered chena using fresh water to remove the sourness of lemon from it and again squeeze it to remove extra water.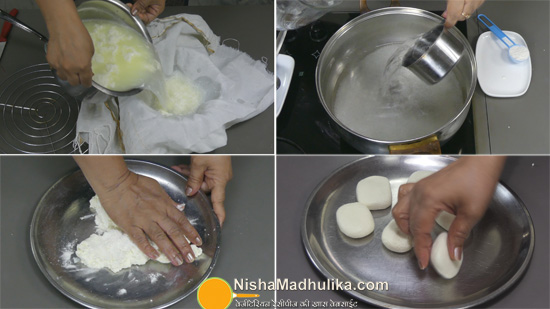 Pour the filtered chena in a plate and mash it to give it a smoother texture. Mash until it becomes smoother and add 1 tablespoon of refined flour on it.
Mix and Mash for 4-5 minutes to make it smoother, divide the Chena lumps, roll them between your palms and press it from all the corners. Prepare all in the same manner.
For sugar syrup
Take 1.5 cups of sugar in a vessel, add 4.5 cups of water in it and cook until sugar dissolves.
For Chena sandwich
Add the Chena pieces in the sugar syrup when it is boiling and add them in intervals to avoid the disappearance of the boiling point of sugar syrup.
After, adding all the pieces in it, cover and cook it for 5 minutes on the high flame. After, 5 minutes check the Chena pieces and you'll realise that they have expanded. Again, flip and cook them for more 5 minutes.
Switch off the flame after 5 minutes and keep them aside to cool down for an hour. Remove the Chena pieces and put them over the strainer so that extra sugar syrup moves out of it.
For the stuffing
Take 1 cup of Mawa and add the prepared saffron milk in it. Blend both the ingredients to make them smoother. Add 3 tablespoons of Boora in it and mix them properly. After mixing them, partially cut the Chena pieces into the two equal halves.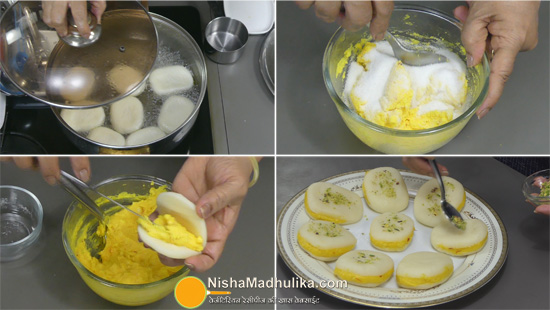 Open them and insert the Mawa stuffing inside it. Press them softly to make the stuffing even and remove the extra stuffing using a knife. Stuff all the Chena Malai sandwich in the same way.
Garnish them with chopped pistachios and serve them after cutting into the desired shapes.
Suggestions
Cow milk is the best option for making Chena but, you can also use buffalo milk or Amul full cream milk
Mash the Chena properly to make it smoother as it is an important process.
You can also use Corn flour, Semolina and Arrowroot instead of Refined flour.
Add the Chena pieces in the sugar syrup only when it is boiling.
You can use whey milk for kneading the dough and preparing curries.
In case there is leftover stuffing then, you can make Ladoo out of it.
The Saffron strands are optional ingredients.
You can also add food colour to it.
स्पेशल मिठाई मलाई चॉप, दीपावली के लिये खास रेसिपी । Bengali Sweet Malai Chop Recipe

Tags
Categories
Bengali Sweet Malai Chop Recipe । Chena sandwich
Nisha Madhulika
Rating:

5.00

out of

5