Sugar Coated Murmura Munchies - Murmura Recipe - sweet lai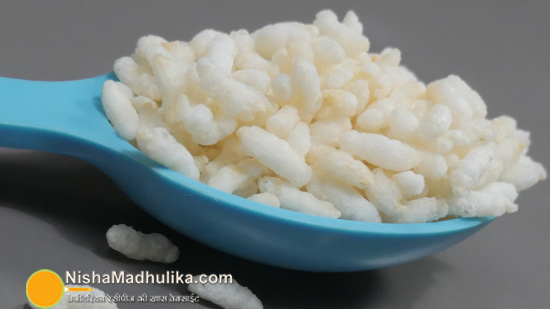 Sweet lai is a traditional Bihari sweet dish. It is sugar coated murmur also known as lai.
Ingredients of Sweet lai
Lai - 4 cups (100 gms)
Sugar - 1 cup (200 gms)
How to make sweet lai
For sugar syrup
Take 1 cup of sugar in a vessel and add ⅓ cup of water in it. Stir and cook them until sugar dissolves in the water. Cook the sugar syrup until reaches to its thick consistency.
To check the sugar syrup put a drop in a mini bowl and if the drop doesn't flow that means the sugar syrup has set the, switch off the flame.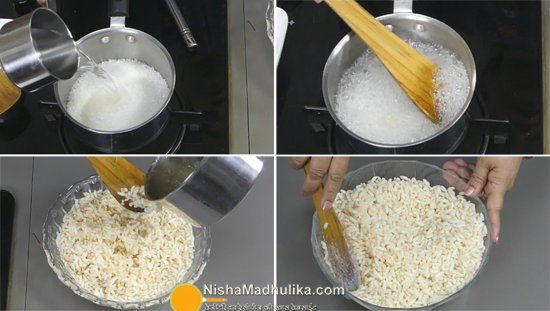 For lai
Take a packet of lai and add mix ½ cup of sugar syrup in it. Stir it continuously and separate lais otherwise, lumps will appear.
Coat the lais properly with the sugar syrup and add the leftover sugar syrup. Again, stir it continuously. Stop when lai expands and separates.
Sugar has evenly coated the lais. The tastier lai is ready to be served.
Suggestions
The lais in the packet are crispy but, if your lai has moisturised then roast it
to make crispy
Store lai in an airtight container once it cools down. You can consume it for 2 months
Cook the sugar syrup until it appears white.
Sugar Coated Murmura Munchies - खिली खिली कुरकुरी मीठी लईया कुरमुरा - Murmura Recipe

Tags
Categories
Sugar Coated Murmura Munchies - Murmura Recipe - sweet lai
Nisha Madhulika
Rating:

5.00

out of

5