Instant Lauki Barfi without Mawa । Lauki Ki lauj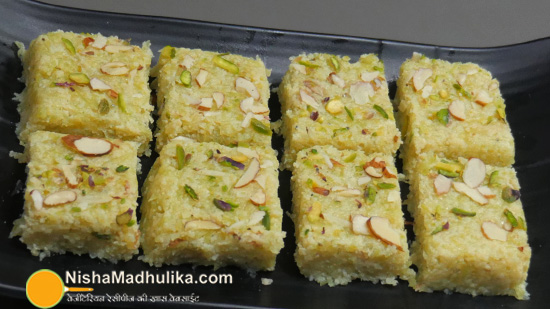 This lauki barfi is made up of condensed milk rather than mawa as in many places mawa is not available.
Ingredients of lauki barfi
Bottle gourd- 1 (800 grams)
Condensed milk- 1 tin (400 grams)
Almonds flakes- ¼ cup
Full cream milk- ½ cup
Green Cardamom powder- 6
Pistachios- 5 to 6 (finely chopped)
How to make the lauki barfi
Take 800 grams of bottle gourd, wash it and peel it. Cut both of its ends and divide it into the pieces of 2 to 2.5 inches.
Divide the pieces into two halves and remove its soft part from the middle using a knife.
Wash the pieces and finely grate them using a grater with fine holes. Remove the thick pieces.
Add it in the strainer and remove its juice by pressing it using a spoon over a bowl.
Add the grated bottle gourd in the pan. Keep the flame on medium and add ½ cup of full cream milk. Cover and cook them on the medium flame for 5-6 minutes.
Stir it after the 5 minutes. Again, cover and cook it for 3-4 minutes. Prepare the coarsely grounded powder of 6 green cardamoms.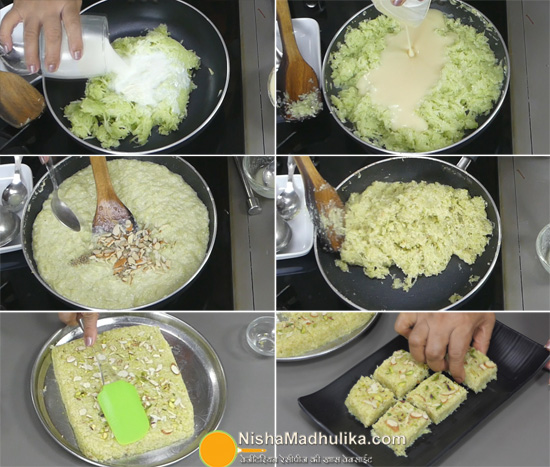 Add 2 tbsp of ghee in the mixture and roast while continuously stirring it on the high flame. Add 1 tin of condensed milk and cook on the high flame until it reaches to its thick consistency.
Add the cardamoms powder, almonds and pistachios after 15 minutes. Keep the flame on medium and cook while continuously stirring it. Switch off the flame as the ghee starts separating from it.
Grease the plate with ghee and add the cooked mixture in it. Spread it evenly on the plate using a spatula and keep it thick more than the ½ inch.
Garnish it with almond flakes, finely chopped pistachios and press them to insert in the mixture.
Store it in a cold place to set and cut the pieces when it has set. Cut the pieces according to your desired size.
Heat the bottom of the plate to remove the pieces easily. Separate the pieces and serve them.
Suggestions
You can use the white pulp of bottle gourd to prepare its curry.
You can also drink the juice which we extracted.
Dal & Dalia Recipe | मूंग दाल और दलिया की वजन घटाने के लिये पारम्परिक रेसीपी

Tags
Categories
Instant Lauki Barfi without Mawa । Lauki Ki lauj
Nisha Madhulika
Rating:

5.00

out of

5