Masoor ke Kebab। Masoor dal ki Spicy tikki Recipe । Whole Masoor dal cutlets
Masoor dal cutlets are crispy and can be served as starters for any party.
Ingredients for masoor ke kabab
Whole Masoor Dal- 1/2 cup (100 gms) (soaked)
Boiled Potatoes- 2 (150 gms)
Paneer- 100 gms
Mint Leaves- 1/4 cup (finely chopped)
Green Coriander- 1/4 cup (finely chopped)
Roasted Chickpea- 1/4 cup
Oil- 1/4 cup
Green Chilies- 2 (Finely Chopped)
Ginger- 1 inch (Grated)
Garam Masala- 1/4 tsp
Red Chili Powder- 1/4 Tsp
Dry Mango Powder- 1/4 Tsp
Coriander powder- 1 Tsp
Cumin Powder - 1/2 tsp (Roasted)
Salt - 1 tsp (to taste)
How to make the masoor ke kabab
To boil Whole Masoor Dal
Clean, wash, soak 1/2 cup of whole masoor dal for 7-8hours and remove excess water. Preheat the pressure cooker and add ¼ cup of water along with dal. Boil dal until the first whistle arrives.
Switch off the flame and leave the cooker for pressure release after the first whistle. Open the pressure cooker after the pressure releases and put dal in the strainer to remove excess water.
For the dough
Place dal in a bowl and mix ¼ cup of finely chopped mint leaves, 2 finely chopped green chillies, 1-inch piece of grated ginger, ¼ tbsp of garam masala, 1/4th tbsp red chilli powder, 1/4th tbsp of mango powder, 1 tbsp coriander powder, 1 tbsp roasted cumin powder, 1 tbsp of salt, powder of grinded roasted chickpeas in it.
Take 2 boiled potatoes, peel and grate them. Grate 100 gms of paneer and add both of them in the mixture.
Knead it using your hands and prepare it exactly like a dough. Apply some oil on your palms and make them greasy to prepare the cutlets.
Take some dough and make the cutlets according to your desired size. Roll the dough and Flatten it to give the shape of a cutlet. Prepare cutlets of the whole dough and place it on the plate.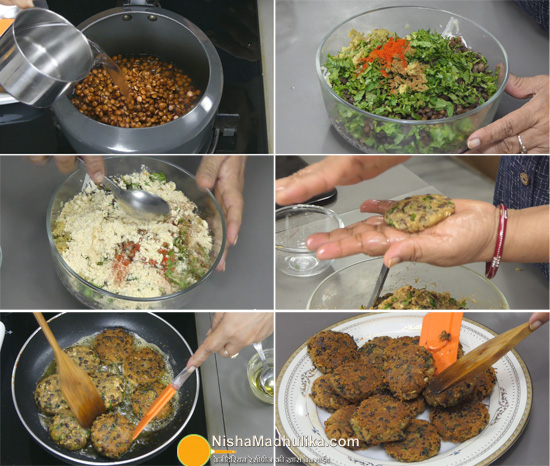 For frying cutlets
Preheat oil in the pan on the low flame. Place them in the pan to fry once the oil is heated. Place the cutlets in the pan according to its capacity. Keep the flame medium-low as the oil heats. Fry them on medium-low flame until they appear golden-brown from the bottom. Flip and fry them from both the sides to make it crispy and prepare the other cutlets for the remaining time.
Check cutlet from the bottom and flip them once they are well brown from the bottom. It will take 5 minutes to fry the cutlets from the one side. Fry them again for 4-5 minutes from the other side. Keep the flame on medium.
Cutlets are fried when they appear brown and they are soft when they are hot. They became crispy when they cool down. Whole masoor dal cutlets are ready to serve. Serve them along with green coriander chutney or tamarind chutney.
Suggestions
1- Serve them along with green coriander chutney or tamarind chutney.
2- Make a burger of it or a sandwich.
3- Roll it in a parantha or a roti.
4- You can decide the quantity of paneer according to your choice and you can also prepare it without the paneer.
5- Add chaat masala in place of mango powder if it is not available.
6- Roast ordinary chana dal and grind it instead of chickpea or use the breadcrumbs
Masoor ke Kebab | मसूर दाल के प्रोटीन रिच कटलेट । Masoor dal ki Spicy tikki Recipe

Tags
Categories
Masoor ke Kebab। Masoor dal ki Spicy tikki Recipe । Whole Masoor dal cutlets
Nisha Madhulika
Rating:

5.00

out of

5