Aloo Lachha Tokri chaat । Aloo Katori Chaat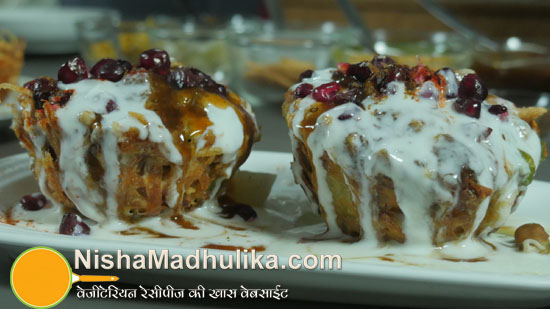 Aloo Lachcha Tokri is one delicious snack. it is shaped in form of a bowl, this chaat garnished with your favorite chutney , curd, peas, potatoes etc tastes amazing.
Ingredients for Aloo Lachcha Tokri :
Peeled potatoes - 4 (400 gms)
Refined flour - 4 tbsp
Oil- for frying
For serving
Boiled chickpeas -
Sweet Whisked curd.
Green coriander chutney.
Tamarind chutney.
Boondi.
Boiled potatoes.
Papdi.
Besan Sev.
Pomegranate Seeds.
Red chili powder.
Black salt.
Roasted Cumin powder.
How to make Aloo Lachh Tokri :
Take potatoes. Wash and peel them. Grate it from the bigger pores.
Then wash twice and remove the starchy water.Press and remove the excess water.
Take out the aloo lachcha in a separate bowl. Add refined flour to it. Mix well with hands. Meanwhile put oil to heat. Turn on flame. Take 2 steel strainer,one should be slightly big, so the other fills in the bigger one.Grease these by dipping in oil. Put the Aloo Lachchas in the strainer,giving it a tokri type shape. Arrange it a bit thick. Press it well. Put the small starainer on it and close.
Check oil lachccha, by dropping a piece of if it floats then the oil is rightly hot.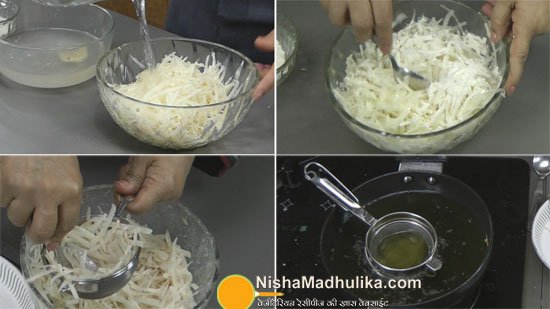 When rightly hot. Hold the strainer and dip in oil. Roast it for 2 to 3 minutes. Remove the upper strainer and check the lachcha. Turn it and roast from both sides till golden brown.
Take it out from the stariner with help of knife. Then Put it again in oil and fry until golden brown.
Once fried hold it with a pincher and drain out excess oil. Place the tokris in a plate.
Prepare all tokris likewise. Sumptuous Aloo Lachchas are ready. 6 to 7 tokris can be prepared with this quantity of Aloo Lachcha.It takes 4 to 5 minutes to roast a tokri.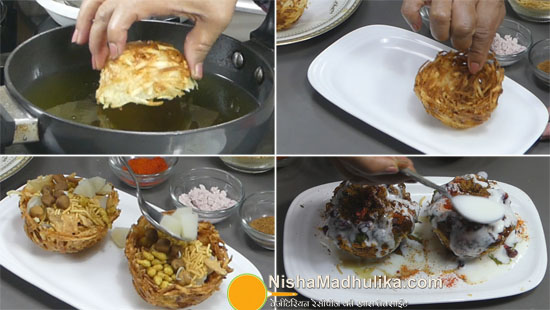 Take a tokri. Garnish the Aloo tokri with ingredients of your choice such as sweet curd, green coriander chutney and sweet chutney, red chili powder, black salt,roasted cumin seeds,boondi,chickpeas,potato pieces,pomagranate seeds etc.
Aloo Lachha Tokri chaat | चटपटी आलू लच्छा टोकरी चाट कैसे बनायें । Aloo Katori Chaat

Tags
Categories
Aloo Lachha Tokri chaat । Aloo Katori Chaat
Nisha Madhulika
Rating:

5.00

out of

5