Soya Stick Namkeen | Soya Bean sticks
testing done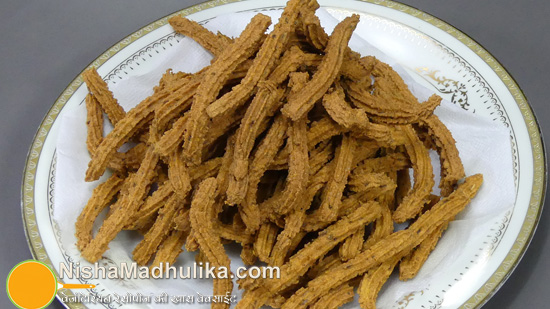 Crispy and tasty Soya bean sticks, kids will relish eating it. You can also have it with tea coffee or cold drinks.
हिंदी में पढ़िए - सोयाबीन स्टिक नमकीन । Soya Stick Namkeen | Soya Bean sticks
Ingredients for Soya Bean sticks :
Soyabean flour - 1 cup ( 100 gms )
Chickpea flour - 1 cup ( 100 gms )
Oil - 4 tbsp & for frying
Red chili powder - 1 tsp
Black pepper - 1/2 tsp (coarsely ground)
Turmeric Powder - 1/2 tsp
Carom seeds - 1/2 tsp
Cumin seeds - 1 tsp
Coriander powder - 1 tsp
Salt - Less than 1 tsp or to taste
Baking Soda - 1/3 tsp
How to make Soya Sticks namkeen:
Take soya bean flour and chickpea flour, add red chili powder,coarsely ground black pepper,turmeric powder,carom seeds,cumin seeds,coriander powder, salt,baking soda and oil.Mix well.Add water in small portions and make soft dough. Cover and keep it for 15 to 20 minutes to set.
After 15 minutes, Grease hands with oil and smoothen dough. Meanwhile put oil to heat.
To make soya sticks take sev making machine,Put the star jali, used for making chakli. Fix machine. Grease hands with oil.Break a lump from the dough. Make log, put in machine.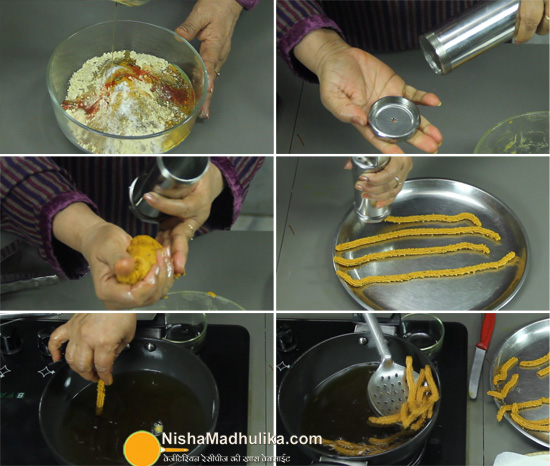 Grease thali with ghee. Press and make straight sticks.
Check oil if it is medium high hot.Cut these into 2 to 3 inch pieces ,then put these to fry.
Stir and fry well until golden brown, fry on medium flame. Once ready take them out. Keep in plate.It takes 4 to 5 minutes to fry the soya sticks once. When cool keep in any air tight container,and relish it for 2 to 3 months.Serve Soya Sticks as a delicious tea time snack anytime.
Suggestion :
Do not make the dough too stiff nor too soft.
While frying the oil should me medium high hot.
Soya Stick Namkeen | सोयाबीन स्टिक नमकीन | Soya Bean sticks

Tags
Categories
Soya Stick Namkeen | Soya Bean sticks
Nisha Madhulika
Rating:

5.00

out of

5