Khatta Meetha Karela | Sweet and Sour Stuffed Bitter Gourd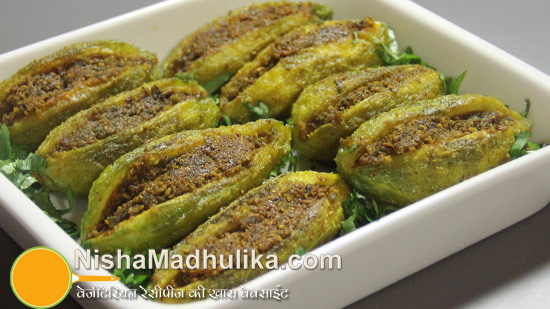 You must have relished the usual Bharwan Karela. It is time you try a different variety of Khatta Meetha Karela. Even kids will enjoy eating it.
हिंदी में पढ़िए - खट्टे मीठे भरवां करेले | Khatta Meetha Karela | Sweet and Sour Stuffed Bitter Gourd
Ingredients for Sweet And Sour Stuffed Bitter Gourd
Bitter gourds – 8 (small sized) (400 grams)
Salt – 1 tsp
For Stuffing
Mustard oil – 4 tbsp
Fennel powder – 2 tsp
Coriander powder – 2 tsp
Mango powder – 1 tsp
Red chilly powder – ¼ tsp
Salt – more than 1 tsp or 1.25 tsp (as per your taste)
Powdered sugar – 2.5 tsp
Turmeric powder – ½ tsp
Cumin seeds – ½ tsp
Asafoetida – 1 pinch
How to make Khatta Meetha Karela
Wash the gourd and pat dry. Remove the stalk then peel gourds and coat them with salt and keep aside for 30 minutes. Gather the peels (removed skin) in a plate to use them later. Also some salt in peels, mix and keep it aside.
Wash the gourd and peels too. Soak it in water for one more time and strain again.Repeat the process. Remove excess water.
To make stuffing, add 2 tsp oil in pan and heat sufficiently. When sufficiently hot, add cumin seeds, asafoetida and turmeric powder into it. Now add peels of gourds and sauté for while. Sauté the peels for 2 minutes then mix spices into it like coriander powder, fennel powder, mango powder and red chilly powder. Keep the flame low.Turn off the flame and add salt and sugar as well. Mix all ingredients nicely. The stuffing is ready. Take it out in a separate bowl so that it cools down quickly.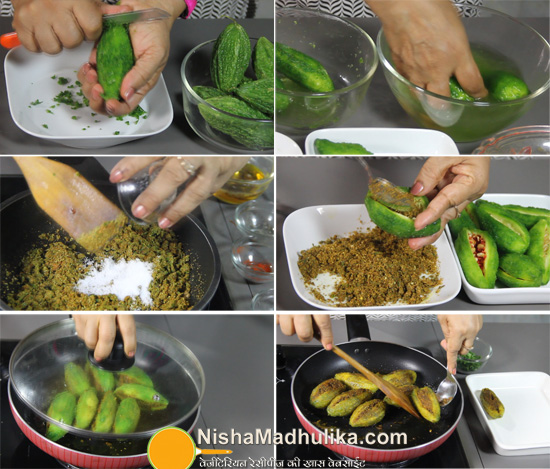 Slit the gourds. Cut it vertically so that it remains joined at the bottom.Add 1 or 1.5 tsp stuffing and press gently with spoon. Remove the excess stuffing. Likewise fill all the gourds.
Preheat a pan and add oil to it. Make sure you use a pan with flat base. When oil is sufficiently hot , now place gourds in pan for cooking. Cover the gourds and cook for 3-4 minutes on low flame. Check after 4 minutes.After 4 minutes, Flip the sides as they have roasted from beneath. Cook until they turn slightly in color from all sides and turn bit tender. Cover and cook for another 3 minutes and flip the sides later. Cover and cook for 3 minutes.Once 3 minutes are done, Flip sides then cover and cook again for 3 more minutes. Cook for 2 more minutes if you find the gourds a bit uncooked. Make sure you keep the flame low. The gourds are ready.
Turn off the flame and take them out in a plate. Garnish with some green coriander.
Khatta Meetha Karela | खट्टे मीठे भरवां करेले । Sweet and Sour Stuffed Bitter Gourd


Tags
Categories
Khatta Meetha Karela | Sweet and Sour Stuffed Bitter Gourd
Nisha Madhulika
Rating:

5.00

out of

5