Chena Murki Recipe |How to make Bangali Sweet Chenna Murki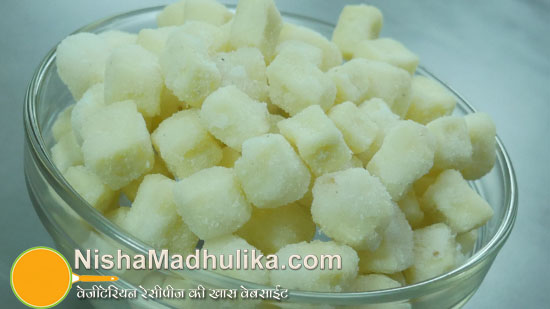 Bite sized Paneer pieces dipped in sugar make an amazing traditional Bengali sweet recipe.
हिंदी में पढ़िए - छैना मुरकी | Chena Murki Recipe |How to make Bangali Sweet Chenna Murki
Ingredients for Chena Murki recipe
Paneer - 250 gms
Sugar - 1 cup (250 gms)
Green Cardamom - 4
Rose water - 1 tsp
How to make Bangali Sweet Chenna Murki
Take paneer and cut into small pieces.Take small cardamoms. Peel and coarsely grind them.
Take a non stick pan add 1 cup sugar to it also add ½ cup water, turn on the flame. Stir well. Keep a check on the sugar syrup. Cook for 2 minutes.To check the sugar syrup, pour a few drops of syrup in a bowl and let it cool. Keep the flame low. Stick a little syrup on your fingers and check. If it forms a single thread on cooling then the syrup is ready.
Put the paneer pieces to the sugar syrup, add cardamom powder too. Cook on low flame until the sugar syrup reaches the setting consistency. Keep stirring regularly so that there is even coating over the paneer.
Once the Sugar syrup is transparent and reaches the setting consistency then Turn off the flame. Lift the pan and place on a jali stand. Add 1 tsp rosewater and constantly stir it. Cool it while stirring it.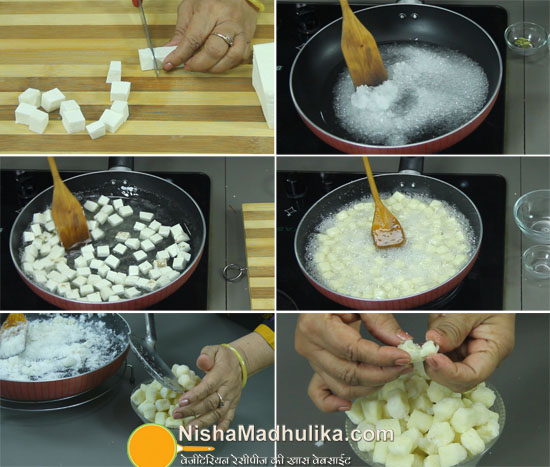 Once sugar is coated well, pick out the paneer pieces. Keep the extra sugar in the pan itself. Take out the chena murki and place in a plate.Luscious Chena Murki is ready and it is mouth drooling.It is dry and sweet on the outside and juicy and slightly sweet from inside. Relish this amazing dish to satisfy your cravings.
Suggestion:
If the sugar has impurities then as the sugar syrup boils, add 1 to 2 tbsp milk,
the impurities will float over the sugar syrup, you can then remove it with a spoon.
It is important to continuously stir the sugar syrup, so that the sugar syrup coats better over the paneer.
You can later use this sugar, in tea or halwa or use wherever you used powdered sugar. You can use it again to make chena murki as well.
Do not cut the pieces too big, cut them small but not too small.
Make sugar syrup check it, when there is single thread drop paneer pieces into it. If you put paneer pieces in thin sugar syrup then , they pieces might break while cooking.

Tags
Categories
Chena Murki Recipe |How to make Bangali Sweet Chenna Murki
Nisha Madhulika
Rating:

5.00

out of

5