पोहा झटपट बनाएं - How to make Poha - Easy Poha Quick Recipe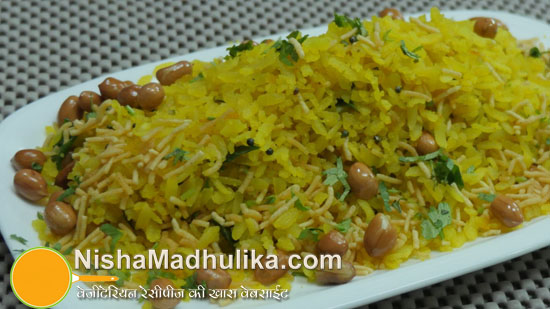 Here is an easy and Quick poha recipe to soothe your hunger pangs.
हिंदी में पढ़िए - पोहा झटपट बनाएं - How to make Poha - Easy Poha Quick Recipe
Ingredients for Easy poha Quick recipe
Poha– 2 cup (150 gms )
Oil – 1 to 2 tbsp
Coriander Leaves– 2 tbsp (finely chopped)
Peanuts -½ cup
Lemon– 1
Curry Leaves - 8 to 10
Green Chilli -1 (finely chopped)
Turmeric Powder - ¼ tsp
Mustard seeds - ½ tsp
Sugar - 1.5 tsp
Salt– ¾ tsp (or to taste )
Besan sev
How to make Poha :
Take 2 cup medium thin Poha and rinse it. Drench the poha in water and drain it immediately. Stir the poha with a spoon. We don't need to soak the poha, just rinse it well. Add ¾ tsp salt or as per taste to the poha, followed by 1.5 tsp sugar. Mix well and keep aside for 15 minutes to set. Stir it once in the meanwhile after 5 minutes are over. Keep aside for 5 to 6 minutes.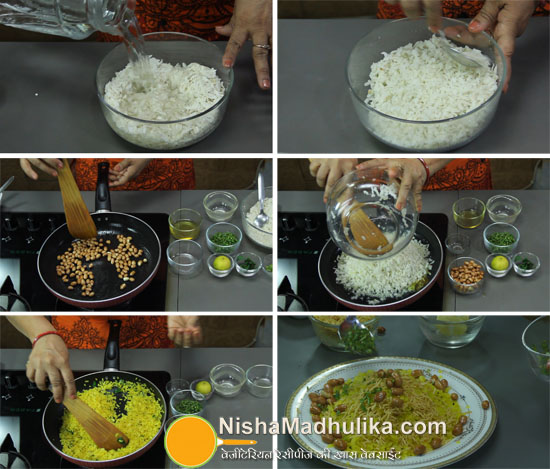 Heat a pan and add 1 tsp oil to it. Saute ½ cup peanuts in the oil till crispy. Once roasted and ready, take them out in a separate plate.
To make poha add 1 to 2 tbsp oil to the pan and heat it. Add ½ tsp black mustard seeds to it and let them crackle. Reduce the flame to prevent spices from browning. Add 1 finely chopped green chili, ¼ tsp turmeric powder, roughly chopped 8 to 10 curry leaves. Add the poha to the pan and cook it for 2 minutes while mixing.
Once poha is ready squeeze half a lemons juice over it. Mix it well.Turn off flame.Take it out in a plate.
Sprinkle some besan sev, some peanuts and a little green coriander over the poha, Place a lemon wedge on the side and have a sumptuous bowl of Instant poha to soothe your hunger pangs.
Suggestion:
The thick variety of poha is used for making fried recipes whereas thin variety poha is used for making roasted namkeens which taste delicious.
You can skip the use of peanuts in poha if desired. If you have roasted peanuts available then you can use them as well.
You can add 2 green chilies as well if you desire eating spicy. If you are making this for kids, then skip the use of green chilies. You can skip the use of curry leaves if not available.
How to make Poha - पोहा झटपट बनायें - Easy Poha Quick Recipe

Tags
Categories
पोहा झटपट बनाएं - How to make Poha - Easy Poha Quick Recipe
Nisha Madhulika
Rating:

5.00

out of

5