Crispy Potato Fingers | Potato Rava Fingers Recipe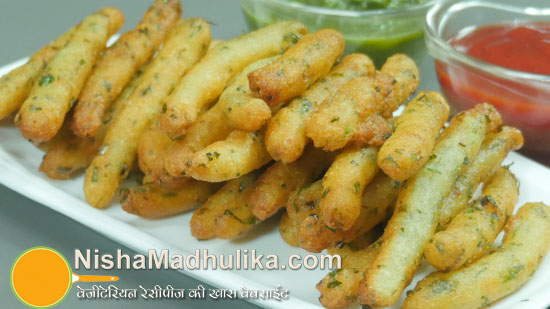 Easy to make crispy snacks of Potato Crispy fingers. Relish these with steaming hot cup of tea or coffee.
हिंदी में पढ़िए - आलू सूजी फिंगर्स | Crispy Potato Fingers | Potato Rava Fingers Recipe
Ingredients for Potato Rava finger Recipe :
Semolina - 1/2 cup (90 gms)
Boiled potatoes - 4 (300 gms)
Green coriander - 1/2 cup (finely chopped)
Green chili -5 to 6 (finely chopped)
Salt - 1 tsp or to taste
Oil - for frying
How to make Crispy potato Fingers
Pour ½ cup water in the vessel heat it, add 1 tsp oil to it. when it starts boiling turn off flame and add ½ cup semolina to the water.over it for 2 to 3 minutes, the semolina will puff up.
Take boiled potatoes,peel and grate them.
Put the puffed semolina in a big mixing bowl.Press to make soft. Add the grated potatoes, 1 tsp salt, add 5 to 6 finely chopped green chili, green coriander with seeds removed. Mix all ingredients well. Prepare fine dough.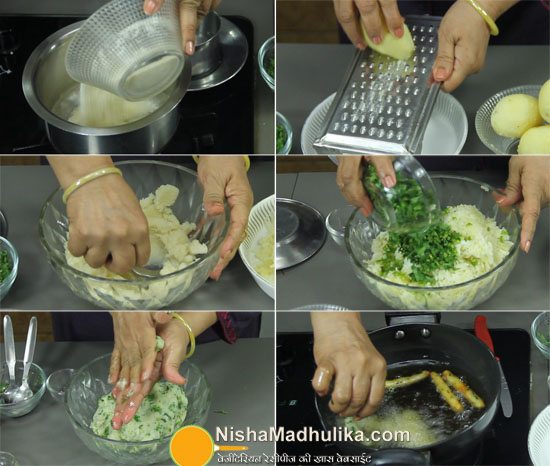 Meanwhile put the pan to heat,turn on flame. Once dough is ready, Take little oil in a small bowl,Grease your hands with it and squash the dough.
To make crispy finger grease your hand with oil.Lift a small lump from the dough.Firstly bind it a bit, and make a long log with hands.Check if the oil is medium high hot.
Put the crispy finger to fry. Keep the flame medium high. Keep making and frying them.Make sure you put them to fry one by one.
When fried and ready, Take out the fried crispy finger .Hold the ladle over the edge of wok, so that the extra oil drains back. Take out the crispy finger and keep in a plate. Fry and prepare all crispy finger likewise.
Steaming hot and crispy Sooji crispy finger is ready to be relished. have as snacks during evenings.It can be served as a starter at any party.
Suggestion:
Keep making and frying them.Take out the brown ones, as we put them together they stick.We need to separate them.If added one by one they won't stick.
To make it more spicy you can add chaat if desired.
Crispy Potato Fingers | आलू सूजी फिंगर्स | Potato Rava Fingers Recipe

Tags
Categories
Crispy Potato Fingers | Potato Rava Fingers Recipe
Nisha Madhulika
Rating:

5.00

out of

5