Doodhi Muthia - Lauki Muthia recipe - Steamed Bottle Gourd Muthiya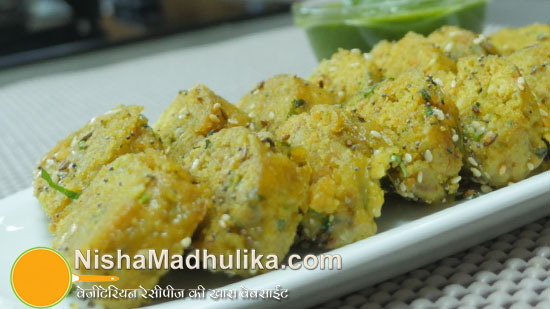 One of the most relished and popular food of Gujarat, Lauki Muthia is a super scrumptious snack. These muthias prepared in steam are enjoyed the most by ones who eat less oil.
हिन्दी में पढिये : Doodhi Muthia - Lauki Muthia recipe - Steamed Bottle Gourd Muthiya
Ingredients for Steamed Bottle Gourd Muthiya
Bottle gourd- 1.5 cup (300 gms ) ( grated )
Wheat flour- 1/2 cup ( 75 gms)
Semolina – 1/2 cup ( 75 gms)
Chickpea flour – 1/2 cup ( 50 gms)
Oil – 2 to 3 tbsp
Coriander Leaves – 2 to 3 tbsp ( finely chopped)
Lemon – 1
Asafoetida – 1 pinch
Turmeric Powder- 1/4 tsp
Baking Soda – Less than 1/4 tsp
Salt – 3/4 tsp ( or to taste )
Green Chillies – 2 to 3 ( finely chopped)
Ginger – ½ inch piece (finely chopped)
Cumin seeds- 1 tsp
Sesame seeds- 1 tsp
Mustard Seeds- 1/2 tsp
How to make Doodhi Muthia
Take wheat flour, semolina, chickpea flour and grated bottle gourd in a big mixing bowl. Also add turmeric powder, asafoetida, finely chopped green chili, finely chopped ginger, 1 tbsp green coriander, 1/2 tsp cumin, baking soda and 2 tsp oil and mix everything really well.
Add 1 tsp lemon juice as well and knead soft dough. Now cook muthia in steam. For this, take a vessel used for making muthia but if this is not available then take any vessel and add some water in it and place it on flame to heat. Also adjust a sieve over it.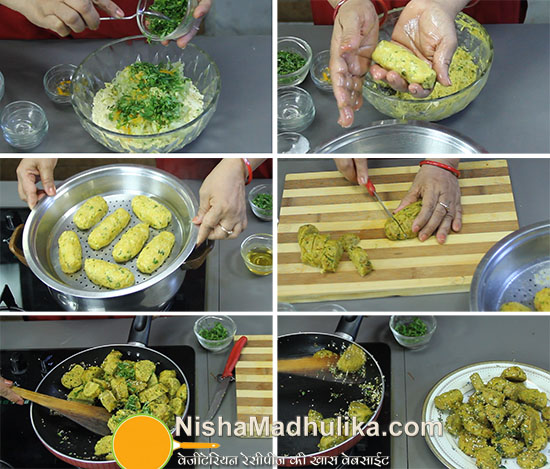 Grease a sieve with some ghee to prevnt muthiya from sticking to it.
Grease your hands with some oil and make a small lump from the dough. Make 2 to 3 inch long log with 1 inch diameter and place it over the sieve. Prepare muthia from rest of the dough as well and place them at some distance on the sieve.
Take 3 cups of water in a vessel and place it on flame for boiling. Place the sieve over it and let it steam for 20 to 25 minutes. Check later.
After 20 remove the lid and check the muthia. To check the muthia, insert a knife to check if cooked through. If the batter doesn't stick to the knife then the muthia is cooked through. If the batter still sticks to the knife then let it steam for a while.
Muthia is almost ready, let it steam for 2 to 3 minutes. Now muthia is ready, turn off the flame and take off the sieve from flame and place it over stand. Let it cool down.
When the muthia cools down, cut into 1/2 inch chunks. To fry the muthia, heat 2 tbsp oil in the wok. When the oil is hot, add cumin seeds and red mustard seed to it. When the seeds crackle, add sesame seeds and saute for a while. When the masala is roasted well, add muthia and some green coriander into it and mix well.
When the muthia get crispy, flip the side and continue roasting. Muthias have turned crispy, turn off the flame and transfer them to a plate.
Delicious muthia is ready, garnish with some green coriander. Serve spongy muthia with green coriander chutney, dahi chutney or any other chutney as per your preference and relish eating.
Suggestion
If the dough for muthia is stiff then add some water to it and make it soft and if the dough is little thin in consistency then add some dry flour to it.
Doodhi Muthia - Lauki Muthia recipe - Steamed Bottle Gourd Muthiya

Tags
Categories
Doodhi Muthia - Lauki Muthia recipe - Steamed Bottle Gourd Muthiya
Nisha Madhulika
Rating:

5.00

out of

5