Vegetable Burgers recipe - Veg Burger Recipe - Veggie Burger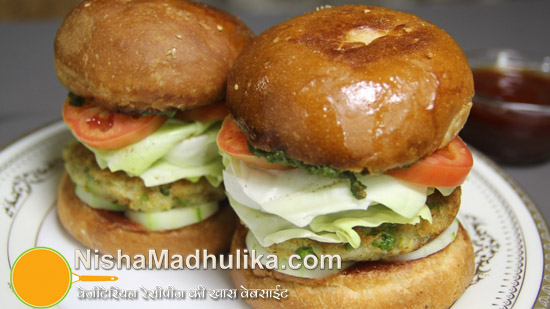 Veg burgers are super delicious where bread bun is stuffed with tikkis, cucumber, paneer and sauce or chutney. This famous street food is kid's favorite.
Ingredients for Veg Burger Recipe 
Burger buns – 2
Cucumber – 1
Cabbage leaves – 5-6 (washed and dried)
Tomato – 2
Paneer – 2 (big slices)
Tomato sauce
Green coriander chutney
Chaat masala – 1 tsp
For making aloo tikki
Potatoes – 3 (medium sized) (200 grams)
Green peas - ½ cup (boiled)
Bread crumbs – 2 breads crumbled
Oil – 2-3 tbsp
Ginger paste – 1 tsp
Green chilies – 2 (finely chopped)
Coriander powder - ½ tsp
Cumin powder - ½ tsp
Dry mango powder - ¼ tsp
Salt – 1/3 tsp or to taste
How to take Veggie Burger
Prepare Tikkis
Peel the potatoes and grate them. Mash the peas well and mix to the grated potatoes. Also add ginger paste, green chilly, salt, mango powder, cumin powder, coriander powder and crumbled bread into it. Mix everything really well.
Heat a pan over flame and add 2 to 3 tbsp oil in it.
Make small lump from the mixture and roll giving it a round shape. Flatten it a little with your palms. Coat it bread crumbs and press gently giving a shape like tikki. Likewise prepare rest of the tikkis as well.
Place these tikkis to roast and let them roast on low flame. Flip the sides of tikkis using a ladle and continue roasting until it turns brown from other side as well. Aloo tikki is ready.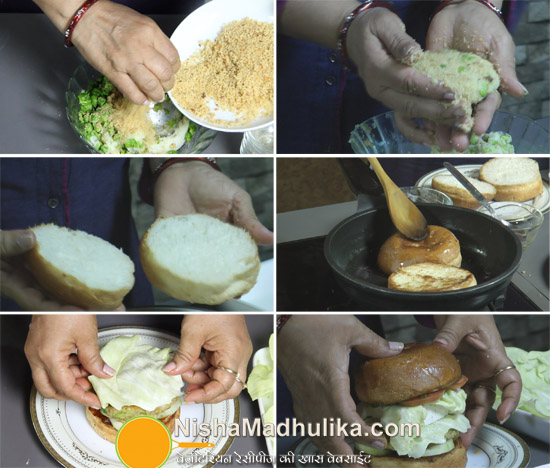 Slice the veggies
Rinse the cucumber, peel and then make thin roundels from it. Rinse the tomatoes as well and make thin roundels from it.
Roast the bun
Take one bun, make a cut in the center to make two equal parts. Spread some oil over the pan and place these buns over it to roast. Let the buns get crispy from both sides and likewise roast another bun as well.
Prepare the Burger
Take one part of bun and spread 1 tsp tomato sauce over it and then place on cucumber slice, sprinkle some chaat masala and then place the aloo tikki over it. Now layer 1 cabbage leave, followed by paneer slice and sprinkle some more chaat masala. Again place 1 cabbage leave, tomato slice and sprinkle some more chaat masala. Place the another bun piece over it after applying green coriander chutney.
Veg burger is now ready, likewise prepare another burger as well. Serve this burger with sauce whenever hungry and relish eating.
Vegetable Burgers recipe - Veg Burger Recipes - Veggie Burger
Tags
Categories
Vegetable Burgers recipe - Veg Burger Recipe - Veggie Burger
Nisha Madhulika
Rating:

5.00

out of

5