Daliya khichdi recipe - Dalia pulao with Moong Dal - Broken Wheat Khichdi

Khichdi prepared with daliya and moong dal is highly nutritious and super delicious. This daliya khichdi can be prepared with numerous ways and serve it to infants and elders. So, here let us prepare this daliya moong dal khichdi with three varieties today.
हिन्दी में पढिये : Daliya khichdi recipe - Dalia pulao with Moong Dal - Broken Wheat Khichdi
Ingredients for Dalia pulao with Moong Dal
Daliya – ⅓ cup (50 grams)
Moong dal – ⅓ cup (50 grams)
Ghee – 1 tbsp
Cumin seeds – ½ tsp
Asafoetida – 1 pinch
Turmeric powder – ¼ tsp
Salt – 1 tsp or to taste
How to make Daliya khichdi recipe
Roast the porridge in pressure cooker for making this recipe. For this, heat a pressure cooker on a flame and add 1 tsp ghee to it. When the ghee melts, add porridge to it. Stir constantly while roasting until it turns fragrant.
When the porridge is roasted well, add husked moong dal to it. Mix well and add 2.5 cups of water to it. Then add more than 1/2 tsp salt and turmeric powder. Put on the lid and let the khichdi simmer until one whistle.
After one whistle, reduce the flame and cook the khichdi on low flame for 3 to 4 minutes. After 4 minutes, turn off the flame and let the steam escape on its own.
Open the lid of pressure cooker when the steam escapes. Khichdi is ready but little dense in consistency. Add 1/2 cup water into it and let it simmer for a while. After this, reduce the flame. This khichdi is ready for infants.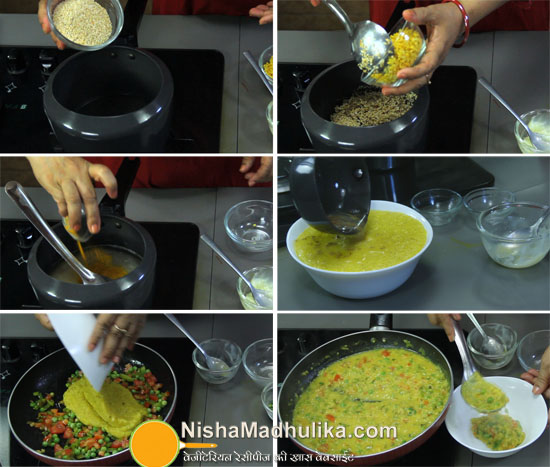 Khichdi for Infants
Transfer the khichdi to a serving bowl. Kids above 6 months are given solid food. This is a very healthy food for infants as it is only prepared with salt and turmeric powder. There is no need to add any spices to this khichdi. Just add some ghee to the khichdi and serve them to kids.
Khichdi for elders and patients
Take out the remaining khichdi in a bowl and mix a tempering to it. For this, heat a small pan with 1 to 2 tsp ghee into it. Add cumin seeds and reduce the flame to low. After the seeds crackle, add asafoetida and saute the masala for a while. Tempering is now ready.
Pour this tempering over the khichdi and mix well. This khichdi is ready to be served to elders and patients.
Khichdi for kids and Adults
Khichdi for kids and adults can be prepared little spicy and delicious. For this, saute few veggies and add them to the khichdi.
Place a pan over flame and add 1 to 2 tsp ghee into it. Cumin and asafoetida is already added to the khichdi. Now add 1 finely chopped green chilly and grated ginger (less than an inch) and saute for a while. Now add 1/2 cup green peas and 1/4 cup finely chopped capsicum to the pan. Saute for few more minutes, cover and cook for 1 more minutes so that peas turn tender.
After a minute, check the veggies. Don't make them too tender, keep them little crunchy. After this, add 1 finely chopped tomato and 1/4 tsp salt to it and mix well. Then add khichdi and some chopped green coriander to the pan. Mix everything really well. Khichdi with veggies is ready. Transfer it to a serving bowl and garnish with some ghee.
Daliya and moong dal khichdi is ready. This yummy and healthy khichdi can be given to any family member. This khichdi is prepared in different styles. Khichdi with spices is good for infants, khichdi with slight tempering is nice for elders and khichdi with spices and masalas is for young kids.
Serve this mouth watering and healthy daliya moong dal khichdi with dahi, papad, chutney or pickle and relish eating.
Suggestions
Rinse the moong dal thoroughly with water.
You can also use butter instead of ghee.
Ghee not only enhances the taste but is also good for kids. You can adjust the quantity of ghee as per your taste.
If kids don't relish eating spicy at all then you can skip the use of green chilly and ginger.
Daliya khichdi recipe - Dalia pulao with Moong Dal - Broken Wheat Khichdi

Tags
Categories
Daliya khichdi recipe - Dalia pulao with Moong Dal - Broken Wheat Khichdi
Nisha Madhulika
Rating:

5.00

out of

5