Eggless Orange Cake - Eggless Cake Recipes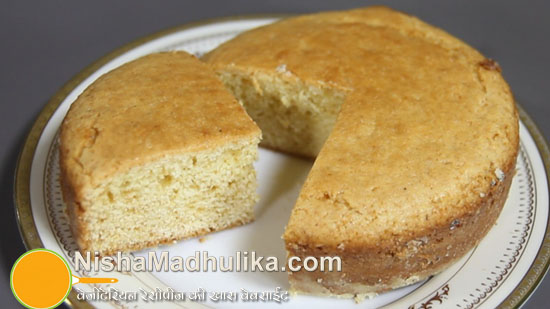 Every kid surely loves eating cakes. So, let us today prepare orange cake with unique taste to surprise kids. 
हिन्दी में पढिये : Eggless Orange Cake - Eggless Cake Recipe
Ingredients for Eggless Cake Recipes
Refined flour – 1 cup
Mandarin – 1
Oil – ½ cup
Powdered sugar – ½ cup
Flax seeds powder – 2 tsp
Baking soda – ¼ tsp
Baking powder – ½ tsp
How to make Eggless Orange Cake
Start with making zest from the mandarin. For this, grate the mandarin to get 1/2 tsp zest from it.
After this, add baking soda and baking powder in refined flour and strain it twice to mix them well.
Take out juice from the mandarin now. For this, divide it into two half and squeeze out the juice using your hands over a sieve placed above the bowl. Juice is now ready. We need 1/4 cup mandarin juice for making cake.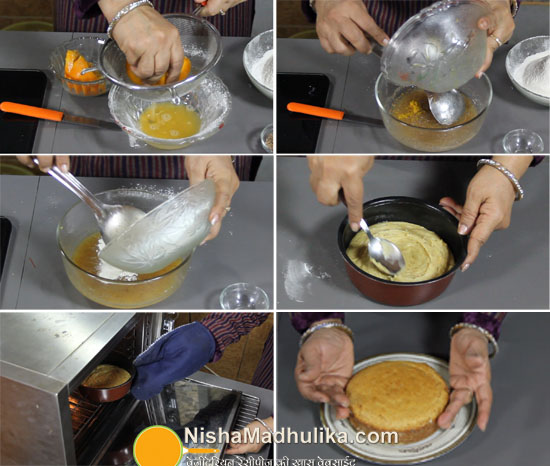 Prepare batter for cake
In a big mixing bowl, take juice and alsi powder. Blend both the ingredients nicely and then add oil and zest to it, followed by powdered sugar and start whisking until it puffs up. Now add refined flour to the bowl and mix everything really well. Batter is now done and ready.
Grease the cake mold with some oil or butter and set a butter paper inside it. Now pour the cake batter into the cake mold. Tap the mold over the surface to even out the mixture. Even out the batter from surface as well. Cake is ready to be baked.
Bake the cake
Preheat the oven at 180 degree centigrade for baking the cake. Place the cake mold on the bottom rack and bake for 25 minutes on 180 degree centigrade.
Check the cake after 25 minutes. Cake appears brown on the surface. Check if its cooked from inside as well. For this insert a knife into the cake, it should come out clean. Cake is baked through, let it cool down a little.
When the cake cools down, separate it out from the mold. For this run knife all around the cake and place a plate over the container. Flip it upside down to separate the cake.
Orange spongy cake is ready. Serve this spongy, soft and toothsome orange cake and relish eating. Store this cake for up to 20 to 25 days.
Suggestions
You can also use butter instead of refined oil.
Condensed milk or milk powder can be used instead of alsi powder. 
Baking time and duration  may vary from oven to oven. So, bake the cake for 25 minutes first and the continue baking until cooked through. Keep checking at regular intervals of 5 minutes. 
If you frost this cake with some cream then it shelf life reduces to just three days.
Eggless Orange Cake - Eggless Cake Recipes

Tags
Categories
Eggless Orange Cake - Eggless Cake Recipes
Nisha Madhulika
Rating:

5.00

out of

5