Uttapam Recipe - How To Make Uthapam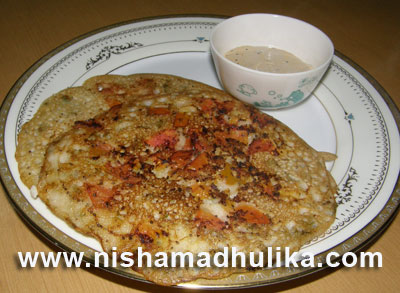 Do you have to avoid too much of oily food? Uttapam requires very less amount of oil to be prepared so this is something you can eat, guilt free.. So lets start preparing Uttapam
हिन्दी में पढिये : Uttapam Recipe - How To Make Uthapam
- Ingredients for Uttapam Recipe
Fat grains of rice ------ 300 grams( 3 small cups)
Urad dal ------ 100 grams ( 1 small cup )
Salt ------ add to taste( 1 tsp )
Baking Soda ----- 1/2 tsp
Tomatoes ------ 250 grams ( 4 medium sized)
Rie ------ 2 tsp
Oil ------ 1/2 cup
- How to make Uttapam Recipe
Clean Dal - rice, wash the two and soak in water for 4-5 hours..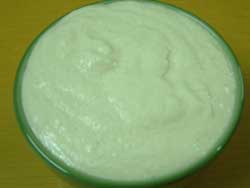 Grind Dal in a mixer to make a fine paste and keep it in bowl. Now grind the rice grains and mix with dal(Do not make a very fine paste of the rice grains). Add salt, baking soda to this mix and blend well. The mixture should be thick such that when dropped from a height it falls in lumps. Cover this mixture allowing it to ferment.(During summer fermentation takes 12 hours while in winter it is prepared in 24 hours).
You will see that the mixture has doubled in quantity. Stir it using a spoon. The mixture needed to prepare Uttapam is ready. Mixture for Dosa and Idli is also prepare in this way.
Chop tomatoes into small pieces.
Place a non stick Tawa(flat pan) on the gas and heat. Pour 2 tsp oil in the Tawa. Put 2-3 pinch Rie and fry it. Now put 1 tbsp tomato and spread it in a circle 2 inches in diameter. Now pour 2 tbsp mixture over the tomato spread. Spread the mixture in a circle 5-6 inches in diameter and thick. Pour some oil all around the Uttapam and all pour some on it(if the mixture seems too thick then add little water and make it thin so that mixture can be spread easily on the Tawa). Decrease the flame, cover Uttapam with a plate allowing it to cook. In almost 2-3 minutes the lower base of the Uttapam turns brown after getting cooked. With a ladle overturn the Uttapam and cook this side for another 2 minutes. You can see that this side has also become brown. Your Uttapam is ready to eat. Prepare Uttapam in this way with the remaining mixture.
Serve hot Uttapa with peanut/coconut/green coriander chutney or Sambhar and eat.
If you like eating onions
Then finely chop 2 onions. Once the Rie is fried put 1 tbsp onion. Gently stir fry onions till they turn light brown. Now put tomatoes and prepare Uttapam in the process given above.

Tags
Categories
Uttapam Recipe - How To Make Uthapam
Nisha Madhulika
Rating:

5.00

out of

5