Apple Nut Muffins Recipe - Apple and Nuts Muffin Recipe

Every time kids favorite muffins are available on numerous flavors in market but if prepared at home they taste more scrumptious. Apple muffins prepared with loads of dry fruits, apples, vanilla essence are too soft and super tempting. Prepare these on any holiday or special occasion and surprise our kids. They will surely relish eating these.
हिन्दी में पढिये : Apple Nut Muffins Recipe - Apple and Nuts Muffin Recipe
Ingredients for apple and nuts muffin recipe
Apple - 1 (medium size) (200 grams)
Refined flour - 1/2 cup (125 grams)
Curd - 1/2 cup
Butter - less than 1/2 cup (75 grams)
Sugar - 1/2 cup (100 grams)
Almonds - 10 to 12
Walnuts - 2 tbsp
Powdered sugar - 2 tbsp
Baking powder -1 tsp
Baking soda - 1/4 tsp
Green cardamom - 4
Vanilla essence
How to make Apple Nut Muffins
Remove stalk from the apple and then peel it. Now grate the apple. Peel the cardamom powder and ground the seeds. Mix powdered sugar to it.
Prepare sauce from the apple
Heat a wok or pan and add grated apple to it, followed by sugar. Cook until sugar melts completely and it turns into a sauce. Keep the flame low.
Meanwhile, cut out the dry fruits. Make 6 to 7 pieces of each almond and finely chop walnuts as well. Keep stirring the sauce at regular intervals. When the sauce turns translucent, mix the sugar syrup in to it and cook until everything blends well. Apple sauce is now ready, turn off the flame.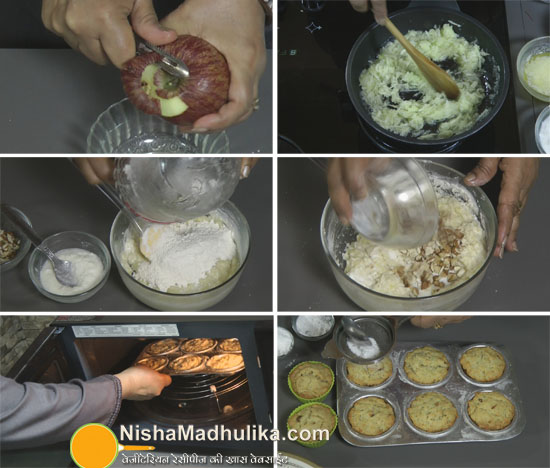 Prepare batter
Take butter and prepared apple sauce in a big mixing bowl. Mix everything really well until they blend nicely. Take refined flour in another big bowl and to it ad baking soda and baking powder. Mix all the ingredients well.
एक बड़े प्याले में बटर (मक्खन) और तैयार एप्पल सॉस डाल लीजिए. दोनों सामग्री को अच्छे से मिक्स होने तक मिला लीजिए. एक अलग बड़े प्याले में मैदा लीजिए और इसमें बेकिंग सोडा और बेकिंग पाउडर डाल दीजिए. सारी चीजों को अच्छी तरीके से मिक्स कर लीजिए.
Bake the muffins
For this, preheat microwave at convection mode on 180 degree centigrade. Grease the molds on muffin tray with some ghee or butter. Sprinkle some dry flour over these tray and spread evenly. This helps to separate the muffins from mold. Turn the tray upside down and dust off the extra refined flour.
After this, fill each molds 3/4 portion with batter. Leave some space on the top. Evenly spread the batter using a spoon. Now place the tray inside the microwave on convection mode at 180 degree centigrade and bake for 20 minutes.
After 20 minutes, check the muffins. Muffins have turned little brown on the surface. Insert a knife inside the muffin, it should come out clean. This shows that the muffins are cooked through. But if you see batter in the knife then bake the muffins for more duration. Muffins are little uncooked, so bake for 4 more minutes and check again. Muffins have turned golden brown in color. It takes 24 minutes to bake the muffins.
Let the muffins cool down and then separate them from the tray. Sprinkle some powdered sugar-cardamom mix over these muffins to garnish. Mouth drooling apple nut muffins are ready. Relish eating them for 3 to 4 days.
Suggestions
You can also add cashews or any other dry fruits to these muffins.
Also curd can be used instead of milk.
Cooking time and temperature can vary from oven to oven. So, bake the muffins for 15 minutes first and continue baking until cooked through and turn golden brown in color.
Apple Nut Muffins Recipe - apple and nuts muffin recipe


Tags
Categories
Apple Nut Muffins Recipe - Apple and Nuts Muffin Recipe
Nisha Madhulika
Rating:

5.00

out of

5