Bread Pizza Katori Recipe - Veg Bread Pizza Snack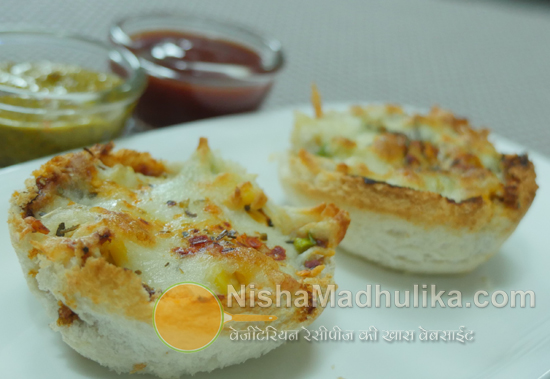 Easy to prepare bread katori pizza is very tempting to eat and easy to bite. These bread katori pizzas will surely be liked by kids and everyone. Pack them in tiffin or serve as finger food or as a starter.
हिन्दी में पढिये : Bread Pizza Katori Recipe - Veg Bread Pizza Snack 
Ingredients for Bread Pizza Katori
Bread – 6 slices
Mozzarella cheese – 50 to 60 grams (grated)
Capsicum – ½ cup (finely chopped)
Sweet corns – 2 tbsp
Baby corns – 3 to 4 (finely chopped)
Black pepper – 8 to 10 (coarsely ground)
Chili flakes – ¼ tsp
Oregano – ½ tsp
Salt – ¼ tsp or to taste
Pizza sauce – 2 tbsp
How to make Veg Bread Pizza katori
For making the bread katori pizza, cut roundels from bread slices. For this place the bread slice over  a rolling board. Place a bowl or lid over it and press down to cut out roundels. Keep all the leftovers in a separate bowl. Likewise prepare rest of the roundels as well.
Prepare the stuffing:
For making this, take sweet corn, chopped baby corn and capsicum in a plate. To the veggies add some salt, 1/4 tsp oregano powder, crushed black pepper and 2 to 3 tsp mozzarella cheese. Stir to mix everything really well and stuffing is done and ready.
Take 6 equal sized bowls. Roll out each bread roundels on a rolling board. Lift one rolled bread roundel and place layer of pizza sauce over it. After this, place the bread slice inside the bowl and set it well. Likewise set rest of the bread slices as well in the bowls.
After setting them in the bowl, place 2 to 3 tsp stuffing over these bread slices or as per the bowls size. Top it up with 2 tsp mozzarella cheese, some oregano and chili flakes.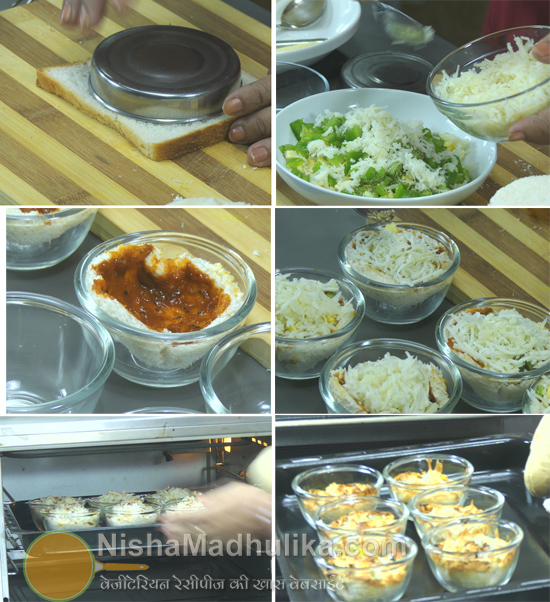 Bake the Bread Pizza Katori
To bake the pizza, preheat the oven at 180 degree centigrade for 5 minutes. After this, take  a baking tray and place all the bowls over it. Now place the oven in the middle rack in the preheated oven and bake for 10 minutes on 180 degree centigrade. 
After 10 minutes, take out the pizzas from oven and check them. Bread has turned brown in color and the cheese has melted as well. Pizza is baked well, transfer the bowls from tray and kitchen platform and let them cool down a little.
With help of a knife, separate the pizza from the bowl and place them on a plate. Bread katori pizza is now ready. Serve these cheesy bread katori pizza with mustard sauce or tomato ketchup and relish eating.
Suggestions:
You can use the leftover bread chunks for making bread crumbs, bread poha or bread halwa.
Any other veggies like mushroom, olives etc can be used for making the stuffing.
You can adjust the quantity of chili flakes as per your taste If making them for kids, then skip the use of chili flakes. 
Baking time varies from oven to oven, so bake the pizza for 10 minutes and then check. In the it has not turned little brown and is the cheese is not melted then bake it for more minutes.
For 6 bread kartori pizzas
Bread Pizza Katori Recipe - Veg Bread Pizza Snack

Tags
Categories
Bread Pizza Katori Recipe - Veg Bread Pizza Snack
Nisha Madhulika
Rating:

5.00

out of

5