Veg fried momos - Fried Dim Sum Recipe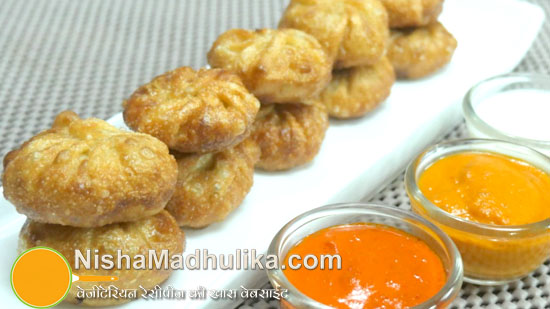 The momos recipe from Nepal-Tibet, is famous and most relished in Delhi too but with a little variation as fried and tandoori momos. Half steamed momos are deep fried until crispy and served steaming hot with white sauce and spicy chutney.
हिन्दी में पढिये : Veg fried momos - Fried Dim Sum Recipe
Ingredients for Fried momos
Refined flour - 1 cup (125 grams)
Cabbage - 1 (350 grams)
Carrots - 1 (50 to 60)
Green coriander - 2 tbsp (finely chopped)
Oil - 2 tbsp
Green chilly - 1 (finely chopped)
Ginger - 1/2 inch (grated)
Salt - 3/4 tsp (to taste)
Oil - for frying
How to make Veg fried momos
Take refined flour in a mixing bowl and to it add 1/4 tsp salt. Now add water in little portions and knead soft dough. Grease your hands with some oil and knead until it gets smooth and soft. Cover and keep the dough aside for 15 to 20 minutes to set.
For stuffing
Rinse the cabbage thoroughly and grate it finely. Peel the carrot as well, rinse it and then grate in the same bowl.
Heat 2 to 3 tsp oil in a pan. When the oil is hot, add grated ginger, green chilly and saute for a while. Turn of the flame now and mix this tempering to the grated veggies. Also add 1/2 tsp salt and finely chopped green coriander and mix everything really well. Stuffing is now done and ready.
Dough is ready as well. Grease your hands with some oil and knead until smooth. Make small round lumps from the dough. Cover the dough balls to prevent them from drying.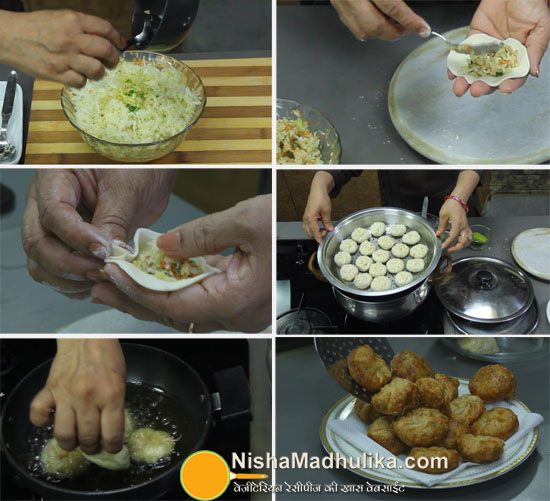 Lift one dough ball and dust it with some dry flour. Now roll it out into 2.5 to 3 inch diameter poori, keeping it thin. If the poori sticks to the rolling board, then dust it again with some dry flour. Roll out the poori while rolling it from the corners, don't roll it from the center. Place the rolled poori on a plate and likewise prepare all the pooris for momos.
Lift one poori on your palm and place 1 to 1.5 tsp stuffing over it. Now stick the ends together and start giving folds to it and stick it to the previous folds. Likewise, make folds and keep sticking them to the previous folds. In the end, stick the folds together giving it a round shape (the method for folding the momos can be seen in the video).
Likewise prepare rest of the momos as well.
To cook the momos in steam, take a steamer used for making the momos. In case you don't have the momos maker then take any vessel over which you can easily place a sieve.
Boil 2 cups of water in a vessel. Grease a sieve with some oil. Place momos at some distance on the sieve. When the water starts simmering, place the sieve over the vessel and cover it well. Steam the momos for 5 minutes for making the fried momos. Take out the sieve after 5 minutes and let them cool down. When the momos cool down a little, transfer them to a bowl. When you need to serve the momos, then deep fry them and serve steaming hot.
For frying the momos:
For frying the momos, heat enough oil in a wok or a pan. When the oil is medium hot, drop as many momos as possible in the wok. Fry the momos on medium-low flame until they get golden brown in color from all sides. When the momos turn golden brown in color from all sides, take them on a slotted ladle and hold it on the edge of the wok so that the excess water drains back to the wok. Place the fried momos on a plate with absorbent paper. Similarly, fry rest of the momos as well. It takes 5 to 6 minutes for frying momos at once. Lip smacking fried momos are now ready to serve.
Serve these lip smacking and super scrumptious fried momos with spicy red chilly chutney, mildly spiced tomato chutney or white sauce and relish eating.

Suggestions:
Don't steam the momos for too long for making the fried momos. Let the steam for a while then take them out.
If you wish serve these momos after a while, then half cook the momos and fry them any time of the day and serve steaming hot.
Related Recipe - For Making the momos chutney How to make Chutney for momos.
Veg fried momos - Fried Dim Sum Recipe

Tags
Categories
Veg fried momos - Fried Dim Sum Recipe
Nisha Madhulika
Rating:

5.00

out of

5