Besan ladoo recipe - How to make besan ladoo - Besan laddu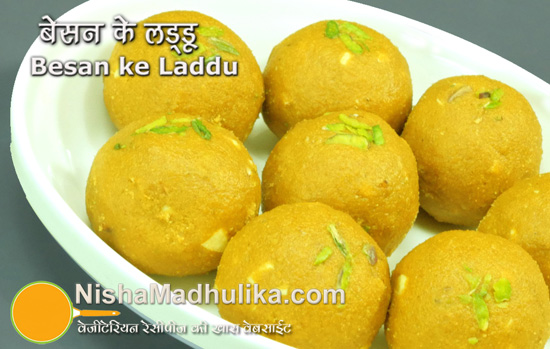 We are prepare scrumptious and super tempting besan ladoos for any festival or auspicious occasion. These laddos can be prepared very instantly with less ingredients. Also, the shelf life of these ladoos is long. Whenever kids come in for holidays or festivals, do serve them with this ladoo and your affection.
हिन्दी में पढिये : Besan ladoo recipe - How to make besan ladoo
Ingredients for Besan ke laddu
Chickpea flour - 2 cups (200 grams)
Tagar - 1.5 cup (225 grams)
Ghee - 1 cup (200 grams)
Almonds - 25 (40 grams)
Cashews - 25 (40 grams)
Green cardamom - 1/2 tsp
Pistachios - for garnish
How to make Besan Laddu Recipe
Add some ghee to a wok, keeping 50 grams save for later use. When the ghee melts, mix chickpea flour to it and keep stirring constantly. When the flour starts turning little brown in color and turn fragrant then sprinkle 1 tbsp water to it (with this there will formation of form on the flour and it will turn grainy which will enhance the taste of ladoos).
Keep roasting the chickpea flour until the form settles. Chickpea flour is ready when the form settles. Turn off the flame and let the roasted chickpea flour cool down. For this, transfer it to a plate.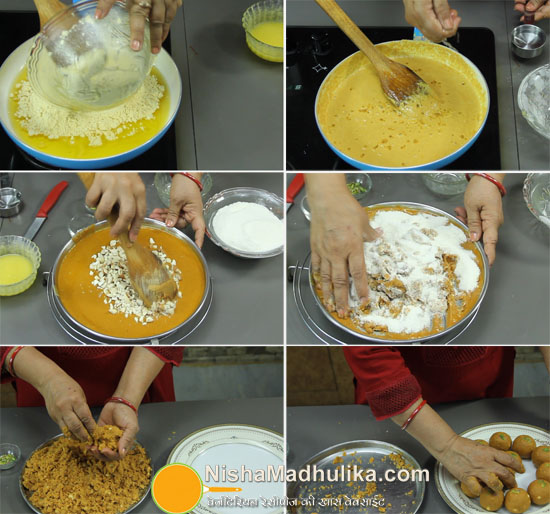 Finely chop the cashews and almonds. Also, finely slice the pistachios. When the chickpea flour cools down a little, mix chopped almonds and cashews to it. Now mix cardamom powder and tagar to the flour. Stir to mix it well.
Mixture for making the mixture is ready. Take little amount of mixture in your hands and shape it round. Now keep rolling to make round ladoo (you can keep the size of ladoo big or small as desired). Garnish the ladoos with sliced pistachios.
Besan ladoos are ready. Keep the ladoos in open for 6 to 7 hours. The ladoos will get dry then store them in any air tight container. It keeps good for 2 to 3 months.
Suggestions:
Roast the chickpea flour on medium flame while stirring constantly to prevent it from sticking at the base.
When the chickpea flour turns golden brown in color, transfer it to a plate as the wok is still is warm and if you leave the flour in the wok it can get over roasted.
When the chickpea flour cools down a little then mix dry fruits and tagar to it.
Don't mix boora when the chickpea flour is too warm. Add boora only when it cools down a little else the mixture will melt and making ladoos will be little difficult.
If the batter appears too dry then to it add some more ghee. And if the mixture has right texture and consistency then there is no need to add the ghee to it.
You can get tagar and boora from the market as well. To make it at home you can read a article How to make tagar at home from the website. If tagar is not available then you can use powdered sugar as well for making the ladoos.
Besan ladoo recipe - How to make besan ladoo

Tags
Categories
Besan ladoo recipe - How to make besan ladoo - Besan laddu
Nisha Madhulika
Rating:

5.00

out of

5