Bread Dahi Vada Recipe - Instant Dahi Vada - Bread ke Dahi Bhalle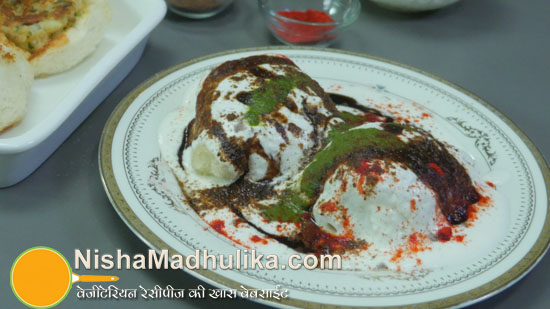 The most relished and popular dahi vadas, traditionally are prepared with urad dal after soaking and then grinding it. But these vadas prepared with bread and potatoes can be prepared instantly to serve.
हिन्दी में पढिये : Bread Dahi Vada Recipe - Instant Dahi Vada - Bread ke Dahi Bhalle
Ingredients for Bread Dahi Vada Recipe
Bread - 8 slices
Potatoes - 5 (400 grams) (boiled)
Buttermilk - 1 cup
Green coriander - 2 tbsp (finely chopped)
Ghee - 2 tbsp
Green chilly - 2 (finely chopped)
Coriander powder - 1 tsp
Ginger paste or finely chopped - 1 tsp
Red chilly powder - less than 1/4 tsp
Mango powder - 1/2 tsp
Salt - more than 1/2 tsp or to taste
Raisins - 1 tbsp
Cashews - 15 (chopped in small chunks)
For serving the dahi vadas
Prepared vadas - 8
Whisked and thick curd- 2 cup
Mango powder sweet chutney - 1/4 cup
Spicy coriander chutney - 1/4 cup
Black salt - 1 tsp
Roasted cumin powder - 1 tsp
Red chilly powder - 1 tsp
How to make Bread ke Dahi Bhalle
For making the bread dahi vadas, cut out roundels from the bread slices. For this, place a bread on the board and with help of a bowl cut out in round shape. 
Cut off the left over sides on the bread using a knife and bread roundels are ready. Similarly, prepare all the bread roundels.
Prepare the stuffing:
Cut each cashew into 6 to 7 chunks. Peel the boiled potatoes and crumbles them finely. 
Now mix ginger paste, finely chopped green chilly, red chilly powder, mango powder, coriander powder, salt, raisins, chopped cashews, chopped green coriander and mix everything really well. Stuffing is now ready.
Divide the stuffing into 8 equal portions. Roll each portion into round ball and place them on a plate. 
For making the vadas, keep one bread roundel on a plate and pour some buttermilk using a spoon, over it to make it little soft. Lift the bread roundel to your hand and place the stuffing on it. Now fold the bread from all sides and close the stuffing keeping it open in one side.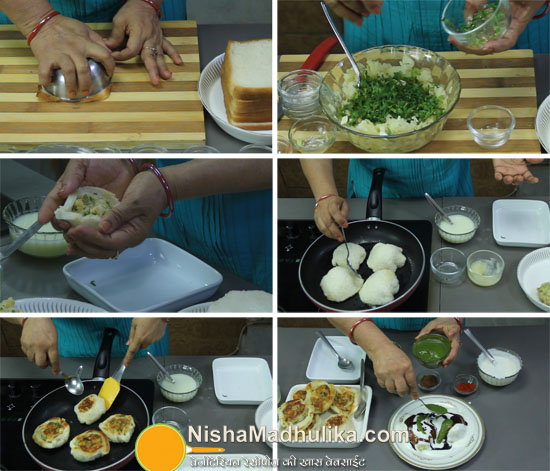 Heat a non stick pan  with some ghee for roasting the bread. When the ghee melts, place the stuffed dahi vadas on the pan, keeping the open side facing downwards. Keep the flame medium-low and roast it until golden brown and crispy.
Likewise prepare all the dahi vadas and roast. Place as many vadas as possible in the pan at once to roast. Pour some ghee over these vadas. When the vadas get golden brown from beneath, flip the sides and let them roast from this side as well.
When the vadas get crispy and golden brown from each side, transfer them to a plate. Likewise prepare rest of the vadas as well. Bread dahi vadas are ready. 
For serving the dahi vadas:
Place 1 to 2 dahi vadas on a plate as per your desire. Pour some curd over the vadas, followed by sweet chutney, green coriander chutney, sprinkle some black salt, roasted cumin powder and red chilly powder. Lip smacking bread dahi vada chaat is now ready. Serve this mouth drooling chaat and relish eating.
Suggestions:
While roasting the vadas keep the flame low-medium to get crispy vadas.
For making 8 vadas
Time - 30 minutes
Bread Dahi Vada Recipe - Aloo Bread Dahi Vada

Tags
Categories
Bread Dahi Vada Recipe - Instant Dahi Vada - Bread ke Dahi Bhalle
Nisha Madhulika
Rating:

5.00

out of

5