Sweet Mini Samosa recipes - Meethe Dry Samosa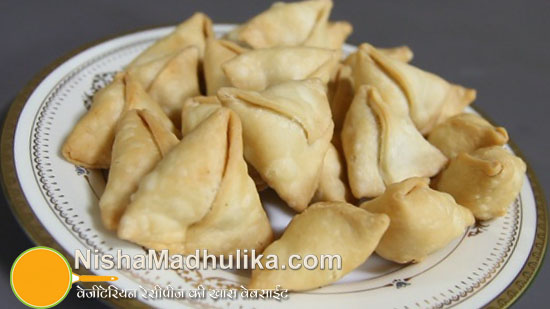 Sweet chana dal samosas are prepared with chana dal and dry fruits sweet stuffing. These sweet samosas are really tempting and have a longer shelf life as well.
हिन्दी में पढिये : Sweet Mini Samosa recipes - Meethe Dry Samosa
Ingredients for Sweet Mini Samosa
Refined flour – 2 cups (250 grams)
Chana lentil – ½ cup (soaked)
Powdered sugar – ½ cup
Melted ghee – ¼ cup
Cashews – 2 tbsp
Raisins – 2 tbsp
Almonds – 8-10
Green cardamom – 5
Ghee – for frying
How to make Meethe Dry Samosa
Soak the chana dal in water for 4 to 5 hours. Place the soaked chana dal in pressure cooker along with 1/2 cup of water and let it simmer. After 2 minutes, reduce the flame and continue cooking the dal.
Take refined flour in a mixing bowl and add melted ghee to it. With help of lukewarm water, knead stiff dough. Cover and keep aside for half an hour to set.
Dal is now ready and cooked through, transfer it to a bowl and let it cool down. After this, place the dal in mixture jar and grind finely to make a fine paste. Heat 1 tbsp ghee in a pan, Then add ground dal to the pan and start stirring it constantly till the dal gets little brown. Then turn off the flame and let the dal cool down.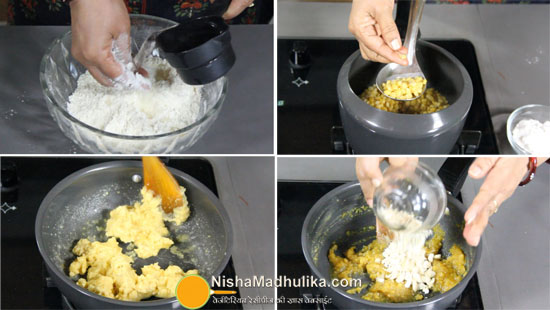 Finely chop almonds and cashews. When the dal cool downs, add chopped cashews, almonds, powdered sugar and cardamom powder to it. Stuffing is now done and ready, transfer it to another bowl.
Lubricate the dough again until smooth. Dough for making the samosas is now ready. Pinch small portion from the dough and roll giving it an oval shape. Lift one dough ball and place it on board. Now roll it out into 3 inch diameter poori and then divide into two halves.
Lift one part and apply some water in the one side. Now fold giving it a shape of cone. Stuff this with the prepared stuffing and give a fold at the back. Apply some more water on both the edges and stick them together.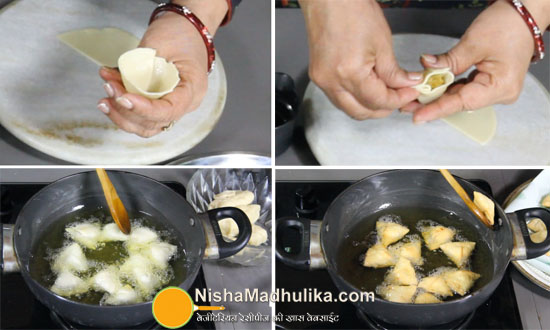 Place the samosa over the plate and similarly prepare the rest. Cover the samosas and keep aside for half an hour. Samosas are now ready to fry. Heat enough oil or ghee in a wok or pan. When the ghee is sufficiently hot, slide 4 to 5 samosas or as many as possible to the wok. Fry them on medium flame until they get golden brown from all sides. Drain out the fried samosas on a plate with absorbent paper. Likewise, fry all the samosas.
Lips smacking chana dal samosas are ready. Let the samosas cool down and then store them in any air tight container. These samosas keep good for 10 to 12 day.
Suggestions:
You can soak these samosas in sugar syrup as well. For this, prepare a two thread consistency syrup and drench the samosas into it. Drain out the samosas and place them on a plate. Let the samosas cool down. When the syrup sets well on them, store the samosas in any air tight container.
For 35 to 40 samosas
Time - 80 minutes
Sweet Mini Samosa recipes - Meethe Dry Samosa

Tags
Categories
Sweet Mini Samosa recipes - Meethe Dry Samosa
Nisha Madhulika
Rating:

5.00

out of

5