Bread Gulab Jamun Recipes - How to make Gulab Jamun from Bread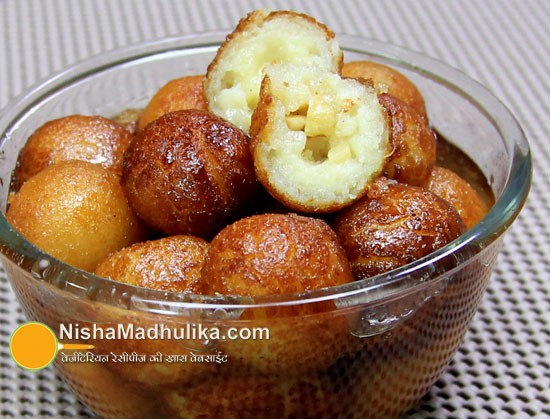 Gulab jamuns prepared with bread and milk are as delicious as gulab jamuns prepared with mawa. Until and unless you state that these gulab jamuns are made with bread and milk the person will never be able to trace the difference.
हिन्दी में पढिये : How to make Gulab Jamun from Bread
Ingredients for Bread Gulab Jamun Recipes
White bread slices - 12
Sugar - 1.5 cup (300 grams)
Thickened full cream milk - 1 cup
Ghee - 1 tsp
Almonds - 7 to 8
Cashews - 7 to 8
Cardamom powder - 1/4 tsp
Ghee - for frying
How to make Gulab Jamun from Bread
Prepare the sugar syrup first for making the gulab jamuns. Take sugar in a vessel for making gulab jamuns and place it on flame for cooking. Cook until sugar melts in water.
Cut off the edges from the bread slices with help of a knife. Likewise cut all edges.
When water starts simmering and sugar dissolves in water, check the syrup. Place two drops of syrup in a bowl. Once cooled, stick it to finger and thumb and stretch apart. If you formation of one thread in the syrup, that means its ready. If there nor formation of thread in the syrup, cook it for 1 to 2 more minutes and check similarly. When the syrup gets one thread consistency, turn off the flame. Sugar syrup is ready.
Break the bread slices and place them in mixture jar to make crumbs. Ground all the bread slices similarly to make crumbs. Take out the bread crumbs in a bowl, add some ghee and add thickened milk little by little to it and knead soft dough. Cover the dough and keep it aside for 10 minutes to set. Meanwhile cut cashews and almonds in small chunks.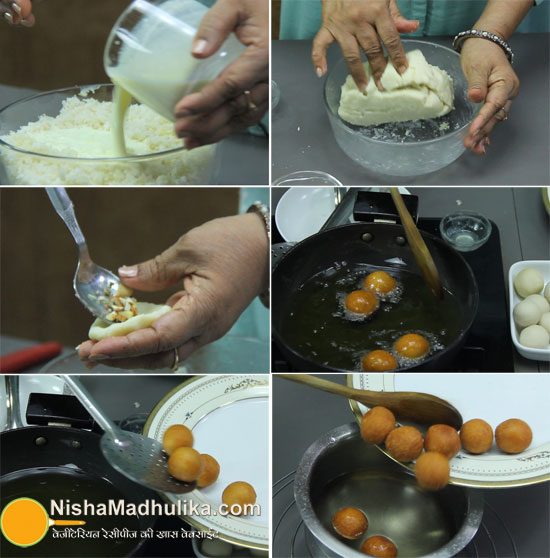 Mix cashews and almonds together, add 1 tsp sugar syrup to it and mix well. Stuffing for gulab jamuns is ready.
Grease your hands with some ghee and knead the bread dough again. Make small lump from the dough and flatten it to stuff it with filling. Lift the dough from all sides and close the stuffing nicely and roll giving it a shape of gulab jamun. Likewise prepare all gulab jamuns.
Take some ghee in a wok. Place 3 to 4 balls in the ghee and fry until they turn golden brown in color from all sides. Toss the gulab jamuns very gently. Take out the fried gulab jamuns from wok and place them over a flame. When cooled, place them in syrup after 2 minutes. Likewise prepare all gulab jamuns and soak them in sugar syrup.
Within 2 to 3 hours, gulab jamuns will soak the syrup and will turn sweet and delicious. Gulab jamuns will then be ready to be served. These tantalizing bread jamuns can be stored in refrigerator for 4 to 5 days.
Suggestion:
To thicken the milk for making gulab jamuns, take 2 cups of milk in a wok and cook until its reduced to one cup. Place it milk in mixture jar and churn nicely. With this all the lumps dissolves making it easy to knead the bread dough.
If you see any cracks on the surface of the balls, then add some more milk to the dough and knead until smooth and soft. There should not be any cracks on the balls.
Heat the ghee sufficiently first, after this reduce the flame and let it come to medium temperature. Place one gulab jamun and fry until brown in color. After this place 4 to 5 or many gulab jamuns as possible in the wok. Scrumptious gulab jamuns can be prepared very easily.
For 24 gulab jamuns
Time - 65 minutes
Bread Gulab Jamun Recipes - How to make Gulab Jamun from Bread


Tags
Categories
Bread Gulab Jamun Recipes - How to make Gulab Jamun from Bread
Nisha Madhulika
Rating:

5.00

out of

5