Jaggery Adhirasam Recipe - Gur Anarsa Recipe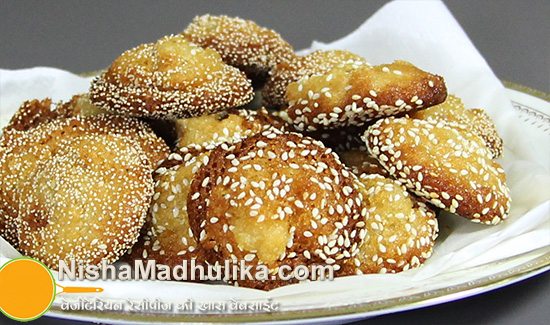 Anarsa is a sweet dish prepared in numerous styles and shape on many festivals like Holi, Diwali and so on. It known as Adhirasam in Southern India and in Himachal, Uttrakhand it is known as Anarsa. Today, we are making anarsa or adhirasam with jaggery mixed with poppy seeds and sesame seeds.
हिन्दी में पढिये : Jaggery Adhirasam Recipe - Gur Anarsa Recipe
Ingredients for Jaggery Adhirasam
Rice flour - 1 cup (150 grams)
Jaggery - more than 1/2 cup (75 grams)
Sesame seeds - 3 to 4 tbsp
Poppy seeds - 3 to 4 tbsp
Ghee - for frying anarsa
How to make jaggery Anarsa
Take rice flour in a bowl. Grind jaggery nicely and mix it in rice flour. Mix everything really well and knead dough. Mash and knead the flour and jaggery for 6 to 7 minutes. With this dough is ready without adding any water. Cover and keep aside the dough for 15 to 20 minutes to set.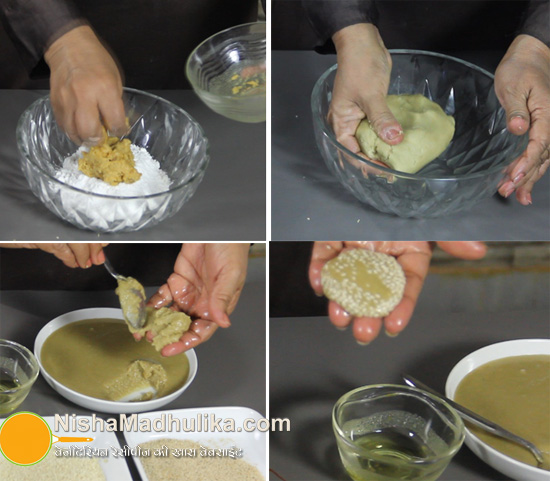 This dough can now be used in making anarsa. If you keep the dough aside for 1 day .i.e. 24 hours then you get spongier anarsa.
Take ghee in a wok and heat it sufficiently. Grease your hands with some ghee and make a lump from dough. Now roll it giving it a round shape. Dust the dough ball in sesame seeds, roll again and then flatten it slightly. If you are using poppy seeds, then dust it with them in similar way.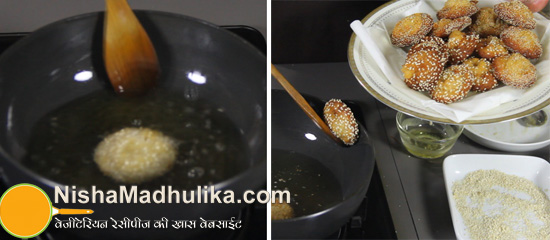 When ghee is sufficiently hot, place anarsa into it for frying. Fry on low flame and pour ghee over the anarsa until it dark brown from from beneath and little golden brown from surface. Likewise fry all anarse and take them out in a plate.
Suggestion:
For making rice flour, take rice of good variety and clean them thoroughly with water. Soak them in water for 24 hours and then drain the excess water. Now place the rice over a cotton cloth and allow them to dry completely. Within 1/2 hour rice get dry. Ground and strain the rice to make flour. You can follow this link to learn the method of making rice flour (How to make Rice Flour at home)and this link is for the video (How to make Rice Flour Video) . Mix and mash the jaggery in flour until it gets wet and dough can be kneaded. This is a long process. If dough appears too dry, then add 1 tsp water into it or 1 tsp milk can also be used.
Fry anarse on low flame and medium hot ghee. If ghee is too hot then anarse can burn and if ghee is too cool then these can splatter.
Jaggery Adhirasam Recipe - Gur Anarsa Recipe

Tags
Categories
Jaggery Adhirasam Recipe - Gur Anarsa Recipe
Nisha Madhulika
Rating:

5.00

out of

5