Microwave Khandvi Recipe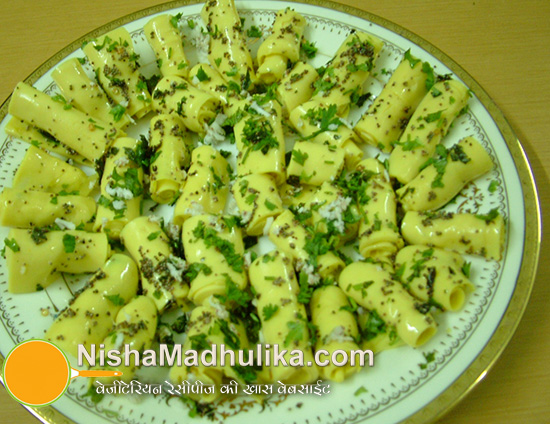 Gujarati khandvi, relished by all can be prepared more easily and instantly in a microwave because there is no need to stir the batter constantly in microwave and no lumps are formed while cooking the batter. 
हिन्दी में पढिये : Microwave Khandvi Recipe 
 Ingredients for instant microwave khandvi
Gram flour - 1 cup (100 grams)
Curd - 1 cup (200 grams)
Green coriander - 2 to 3 tbsp (finely chopped)
Oil - 2 to 3 tbsp
Green chilly - 2 (minced)
Curry leaves - 8 to 10
Turmeric powder - less than 1/4 tsp 
Asafoetida - 1 pinch
Brown red seeds - 1/2 tsp
Sesame seeds - 1 tsp
Salt - 3/4 tsp or as per taste
How to Make Khandvi, Gujarati Street Food in a Microwave
Place curd, gram flour and 2 cup water in a mixture jar and make a smooth batter (batter can also be prepared in a bowl, b whisking it manually). Place the batter in a microwave safe bowl and add salt, turmeric powder, asafoetida and 1 tbsp oil into it. Mix well. 
Place the bowl in microwave and cook for 2 minutes. Take out the bowl and stir nicely. Place back the bowl in microwave and cook for 2 minutes. Take out the bowl and stir again. Microwave for 2 more minutes. Take out the bowl again and stir the batter really well. 
Microwave for 1 more minute (we have microwaved the batter for 7 minutes) and take out the bowl. Stir the batter nicely. Batter for making khandvi is ready.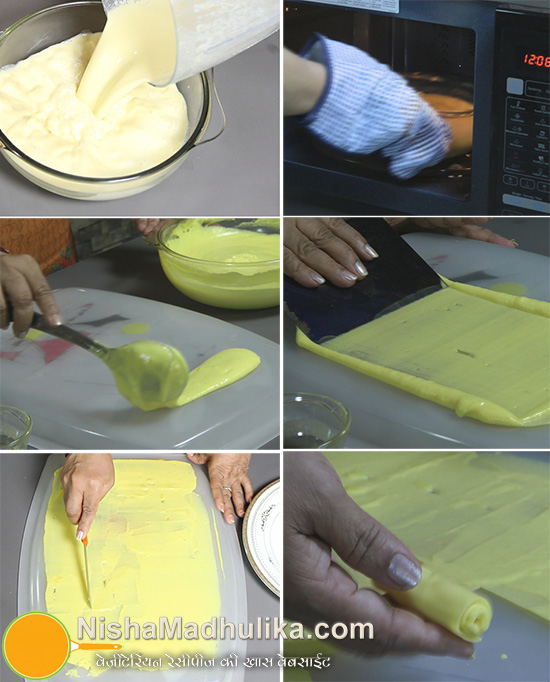 For spreading the batter, take a plate or tray. There is no need to grease the plate with oil. Spread the khandvi batter over plate very thinly. With help of a spatula, spread the batter very thinly over the plate. Within 10 to 15 minutes, batter cools and sets. Now using a knife, make 6 inch long and 2 inch wide cuts over this sheet. Now roll these strips. Place all the rolls over a plate. 
Now preheat oil in a small wok. Chop the green chilies lengthwise. When oil is sufficiently hot add brown mustard seeds into. After sauteing brown mustard seeds, add curry leaves and green chilies as well. Saute for while and spread this tadka over the khandvi. Garnish with green coriander and coconut. Scrumptious khandvi prepared in microwave is now ready. Serve khandvi with any chutney as per your taste and relish eating. 
Suggestions:
Mix the batter until smooth. There should not be any lumps in it. 
For 3 to 4 members
Time - 50 minutes
Microwave Khandvi Recipe Video in Hindi

Tags
Categories
Microwave Khandvi Recipe
Nisha Madhulika
Rating:

5.00

out of

5