Whole Wheat Bread Atta Bread Recipe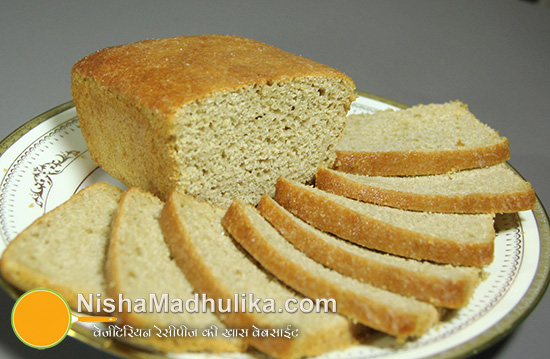 Bread made with wheat flour is nutritious as well as delicious to eat. If you don't like eating bread made with maida then try making fresh brown bread at home. You'll surely like it. 
हिन्दी में पढिये : Whole Wheat Bread Atta Bread Recipe
Ingredients for Whole Wheat Brown Bread (Vegetarian)
Wheat flour - 2 cup (300 grams)
Oil - 2 tbsp
Active dry yeast - 1 tsp
Salt - 1/2 tsp (as per taste)
Sugar - 1 tsp
How to Make Basic Whole Wheat Bread
Take flour in any big bowl and make a hole in center. Add salt, sugar and yeast into it. Also add lukewarm water and mix the ingredients nicely. Add 2 tbsp oil and with help of lukewarm water knead soft dough. Grease your hands with some oil and knead dough until smooth. Keep kneading for 6-7 minutes. Dough is now ready. 
Take container with 4"x 10" inch dimensions. Grease the container with some oil. Place the dough in container and spread evenly. Spread some oil over the dough. Cover the container and keep aside on warm place. Within 2-3 hours dough will get doubled in its size. 
Dough is ready, bake the bread now. Preheat oven at 220 degree centigrade. Place the container over net stand or middle rack in the oven. Set the oven at 220 degree centigrade for 15 minutes. Check the bread. Bake the bread until it gets golden brown on the surface. Increase the time as required. To check, insert knife in bread, if it comes out clean then bread is ready. 
 Allow the bread to cool for 10-15 minutes. Run knife along all sides to separate the bread from container and place on a board or plate. Spread ghee or butter over the bread. This enhance the looks as well as taste of the bread. Now with help of knife, make 1 cm thin bread slices.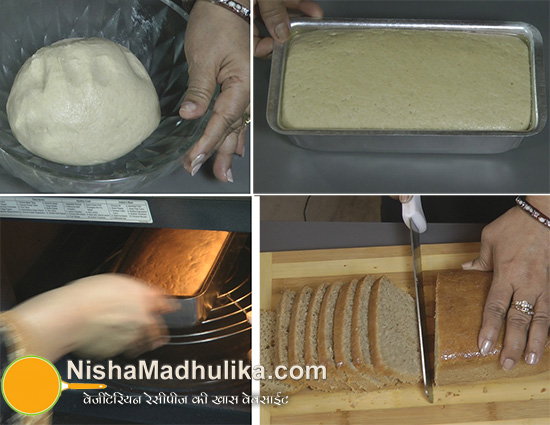 Tempting brown bread is ready. Relish eating freshly baked bread and store the rest in any container. Place the container in freeze and enjoy eating for 2-3 days. 
Suggestions:
Instant dry active yeast can be directly used for making dough. But in case of normal yeast (non-instant) firstly soak it in 2-3 tbsp lukewarm water. Cover and keep aside for 10 minutes. This way yeast will get active. You can see formation of bubbles over surface. Now mix in flour and knead dough. 
During winter, place the dough in cupboard with lukewarm water by its side to set. Close the cupboard. Within 2-3 hours, dough will set. 
Brown Bread Recipe Video in Hindi

Tags
Categories
Whole Wheat Bread Atta Bread Recipe
Nisha Madhulika
Rating:

5.00

out of

5