Eggless Christmas Cake Recipe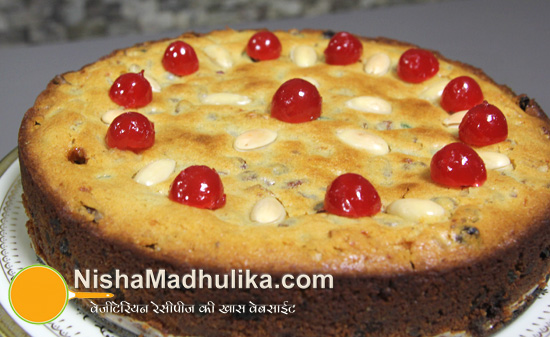 The taste of christmas cake is very special when made using a lot of dry fruits and spices. It's shelf life is more than the usual life. Let's prepare egg less Christmas cake.
हिन्दी में पढिये : Eggless Christmas Cake Recipe
Ingredients required for eggless Christmas cake
All purpose flour (Maida) - 250 gram or 2 cup
Dry plum (Aloo bukhara) - 200 gram
Dry raisins (Kishmish) - 200 gram
Walnut - 100 gram
Butter - 200 gram or 1 cup
Condensed milk - 300 gram or ¾ cup
Jaggry Khand or Brown Sugar- 100 gram or ½ cup
Plain Khand - ½ cup or 100 gram
Tutti Frutti - 50 gram or ⅓ cup
Glazed cherry - 8 to 10
Almonds (Badam) - 15 to 20
Orange zest - 1 tsp
Lemon zest - 1 tsp
Green cardamom (Chhoti elaichi) - 6 to 7
Cinnamon stick (Dalchini) - ½ inch
Cloves (Laung) - 2
Nutmeg (Jaiphal) - 2 to 3 pinch
Black pepper (Kali mirch) - 4-5
Baking powder - 2 tsp
Vanilla essence - 1 tsp
Milk - ½ cup
How to prepare Christmas Cake
First we'll remove the seeds from the dry plums. Then cut them into tiny pieces. Remove the stalk from the raisins. Wipe it with a cloth. Now cut the walnuts into tiny pieces. Peel off the green cardamom and grind all the spices to make a powder.

Put baking powder and maida in a filtrate. Mix it well and filter. Put butter in a bowl and add gur khand as well as plain khand in the butter. Keep mixing it till it becomes a little fluffy. Now add condensed milk and maida to it and mix well. Add the lemon and orange zest to the batter. Also add the grounded spices. Now add walnuts, currants, dry mango and tutty frutty to the batter and mix thoroughly. Add milk to the batter if it is thick. Our batter for the cake is now ready.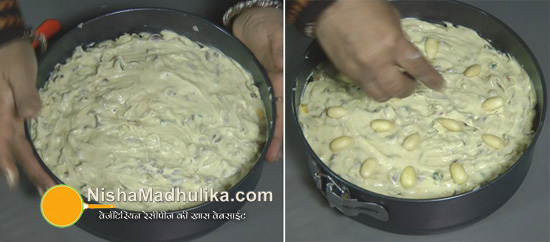 Preheat the oven on 180 centigrade.
Take a container of 8-9 inches in diameter to bake the cake. Spread a butter paper at the base of the container, grease it with butter and spread it evenly at all sides. Put the cake batter in the container and spread it evenly, add almonds from the top. Our oven is preheated and ready. Put the container on middle of the oven rack. Bake the cake for 35 minutes at the 180 degree centigrade.
Now check, the cake is light brown. Bake the cake for another 10 minutes. Check it. It is still a little brown in colour. Bake it for another 10-15 minutes on 170 centigrade till it is brown in colour from the top. To check the cake, we can put a knife inside it. If the knife is coming out clear then it means the cake is completely baked and if some ingredients stick to the knife, then it is not ready and we need to bake it a little more.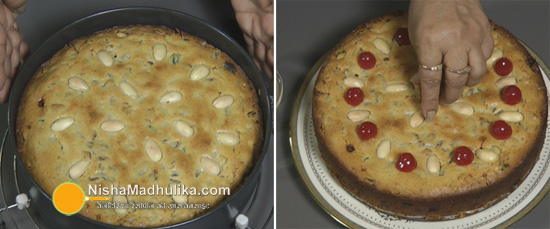 Our cake is now completely baked. Leave the cake for 10 minutes to cool down. Cut the cake from all sides and take it out from the container. Now put pieces of cherry on top of the cake.
This cake is very tasty. Serve the cake once it is cool, and fill the remaining cake in a container. You can store it in the refrigerator and eat it for a month.
Suggestions :
You can also take dry Khumani or dry black grapes instead of dry plums.
Khand, plain khand, brown sugar or crushed sugar anything can be used.
You can take glazed cherry, colourful jam or any candy to garnish the cake.

Tags
Categories
Eggless Christmas Cake Recipe
Nisha Madhulika
Rating:

5.00

out of

5