Potato Chips Recipe – Aloo Chips Recipe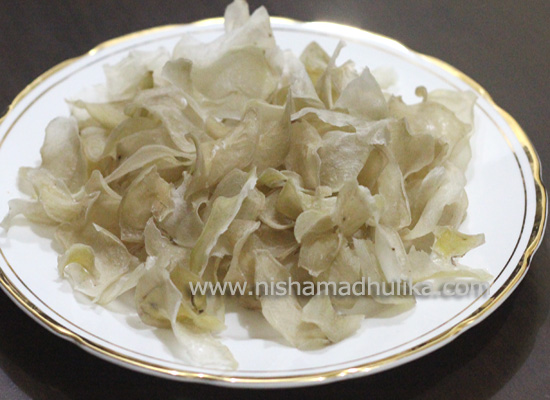 There are many ways to make Potato Chips. You can make Crisp Potato Chips by slicing raw potato, or Dried Potato Chips can be made by boiling the chips and then drying them. Make dry potato chips and then fry it whenever you want to eat.
Take big sized Desi potatoes to make Dry Potato Chips. The chips made from these potaoes are very tasty.
हिन्दी में पढिये : Potato Chips Recipe – Aloo Chips Recipe
Ingredients for Potato Chips
Method - How to make Potato Chips
Wash the potatoes and slice it in a food processor or with any chips cutter. Chips should not be sliced extremely thin. Keep the chips dipped into the water.
Take a big bowl, big enough to dip all the chips into it. Now take a separate bowl and boil some water in it. Now add the chips into this boiled water, and let them boil for 5-6 minutes on a medium flame. Turn off the flame.



Now strain the water from the chips. Your chips are ready to get dried.
You can se any clean old bedsheet or any big polythene to spread the chips.  Spread the sheet and spread the chips over it.
In one day sunlight the chips get dried at such a level that you can roll them in the bedsheet and then spread it again the next day. Dried Potato Chips are ready and you can store them in a air-tight container.
Whenever you want to eat Potato chips, just take them out of the container and fry them.
How to fry Potato Chips.
Take a pan and heat oil in it. Now put chips into the heated oil. Keep the flame low to fry the chips. Keep on turning the chips with the spoon and take them out once they turn brown in colour.  Sprinkle some salt, pepper, red chilli powder over the chips. Mix them well and serve it with tea, coffee, or any soft drink.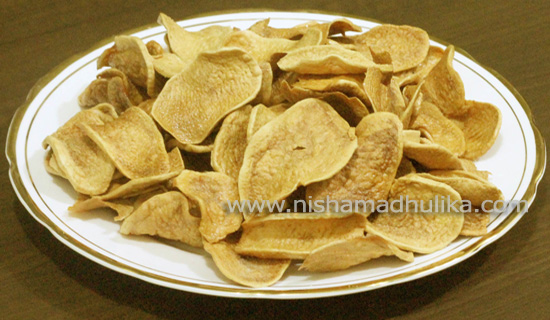 You can eat these chips in the fast also, by sprinkling lahori salt and pepper.
Suggestions:
Instead of drying the chips made from raw potatoes, you can also first boil the potato and then dry the slices made with boiled potatoes. For this do not boil the potatoes completely , instead keep them little raw. Keep the boiled potatoes untouched for 2 hours and then cut the slices to make chips.
Precautions:
Remember not to boil the potato chips too much, else they'll break down.
Potatoes chips should not be half boiled, else they'll turn black.
Dry the chips completely, else they'll catch fungus. Dy the chips again after monsoon season to increase their life so that it can stored for longer period.

Tags
Categories
Potato Chips Recipe – Aloo Chips Recipe
Nisha Madhulika
Rating:

5.00

out of

5