Chana Dal Halwa Recipe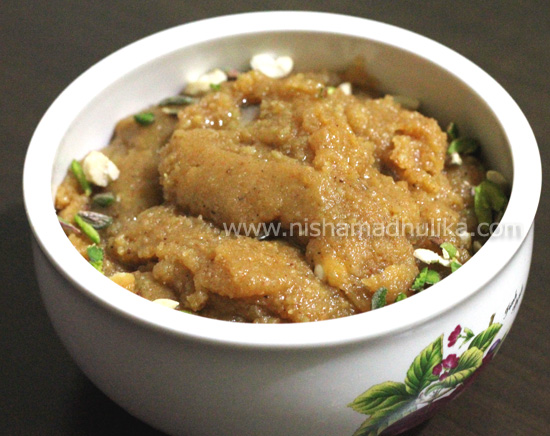 Chana can be used to make various different namkeens and sweets. Chana Dal Halwa is one of the traditional Indian recipes.
इस पोस्ट को हिन्दी में पढिये.
Chana Dal halwa Recipe in Hindi
Ingredients for Chana Dal Halwa
Chana Dal - 200 gms. (1 cup)
Ghee - 150 gms. (3/4 cups)
Mawa - 200 gms. (1/2 or 1 cup)
Sugar - 200 gms. (1 cup)
Milk - 1 cup
Cashews - 20 -25 (cut 5-6 cashews into pieces)
Almonds - 5 (chopped)
Pistachios -  20 -25
Coconut - 2 inch long piece (cut it into small pieces)
Small Cardamom - 5 (peel and grind it)
Method - How to Make Chana Dal Halwa
Clean the Chana Dal and soak it for 4-5 hours. Take soaked Dal and boil it in a cooker with 1/2 cup water for upto 1 whistle. After whistle cook it on a low flame for 2 minutes. Turnoff the flame once the Chana Dal boils well.
Grind the Dal in a mixer without water.
Heat 1 cup oil in a pan, add grounded Dal in it. Stir it continuously with the ladle and roast till it turns brown and gives out the fragrance. Take out the roasted Dal  in a separate bowl. Also roast the mawa until brown and keep it in a separate bowl.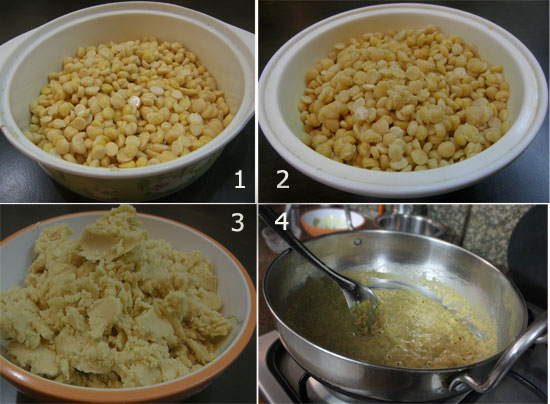 Pour milk and sugar into the pan and add roasted Chana Dal and Mawa into it, once the sugar gets completely dissolved into the milk. Save some Mewa for later use, put the rest  into the pan and mix well.
Stir the Halwa continuosly and cook it till it starts to leave the corners of the pan. Turn off the flame and pour 1 or 2 table spoon ghee and cardamom from the top.
Chana Dal Halwa is ready to serve. Take it out in a serving dish and garnish it with saved mewa mix.
If you wish to make Burfi from Chana Dal Halwa, then keep on stirring the Halwa until it gets thick in consistency. Take a plate or tray and grease it with some butter or ghee. Pour the Halwa into the tray, garnish it with some mewa and keep it aside to set. Once it gets set cut it into your preferable shape.
You can store the Halwa in an air-tight container and can be consumed for 7 days.
Precautions:
Thoroughly boil the Chana Dal. Make minimum use of water while grinding the Dal.
Roast the Dal on a medium or low flame and stir it continuously.

Suggestion.
You can prepare Chana Dal Halwa without Mawa or can reduce the quantity of Mawa according to your preference.

Tags
Categories
Chana Dal Halwa Recipe
Nisha Madhulika
Rating:

5.00

out of

5