Gulab Sharbat Recipe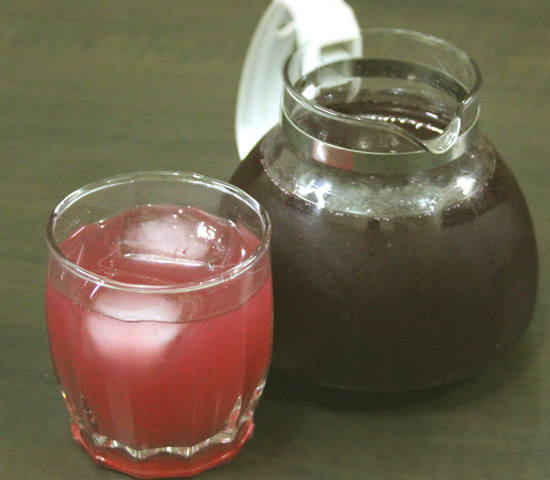 In this extreme season of heat, a glass of Rose Juice(Sharbat) can help cool down your body and mind. In this time of the year, Rose flower is available in abundance and this is the best time to make Rose sharbat drink.
Wild Rose flowers are considered better to prepare Rose sharbat. Moreover they are cheap in price. In Delhi, you can buy cheap roses in Cannaught Place at Baba Khadak Singh Marg between 4a.m to 9a.m. You will easily get a bunch of 80 flowers for just Rs.60.
हिन्दी में पढिये : Gulab Sharbat Recipe
Ingredients for Rose Sharbat
Rose Petals - around 30 roses.
Beetroot - 1
Tulsi Leaves- -20-25 leaves.
Mint Leaves- -2-25 leaves.
Coriander Leaves - 1 table spoon (chopped)
Small Cardamom - 5-6
Sugar - 1 kg (5 cup)
Lemon - 4
Method - How to make Rose Sharbat
Wash the rose petals two times with water and clean them. Filter the left over water with a filterer and place the petals on a clean cloth.
Boil 1 cup water, add put rose petals and the boiled water in the mixer and blend it
Now sieve this paste and collect the rose water in a separate container.
Wash, peel and cut the beetroot, tulsi leaves, mint leaves, coriander leaves. Mix and blend them well. Now add this mixture in a bowl filled with 1 cup water and boil it. Let it boil for 3-4 minutes on medium flame. Turn off the flame and let it cool. Now again sieve the mixture and take out the juice from it in a separate container.



Now boil 1 cup water and 600 gms sugar and keep for 1-2 minutes once the sugar gets dissolve. Turn off the flame and let the syrup cool down.
Now add cardamom to the left over sugar and make a paste of it.
Take out Lime Juice in a separate bowl.
Now add rose petal paste, beetroot paste, lime juice, sugar paste into the syrup. Now cover and leave the syrup for 4-5 hours, so that all the flavors gets mix into each other.
Concentrated Rose Sharbat is ready. Now put this sharbat in a glass bottle and store it in the refrigerator. Whenever you wish to drink this sharbat, just take a glass and put 2 table spoon of sharbat and cold water into it. Mix it well and add ice cubes into it.
This Gulab Sharbat can be stored for a month in the refrigerator.
Precautions:
You can add other flavours like Anar(Pomegranate) Juice etc as per your taste and preference or can even remove coriander, mint leaves, or tulsi leaves.

Tags
Categories
Gulab Sharbat Recipe
Nisha Madhulika
Rating:

5.00

out of

5