How to Make Yeast at Home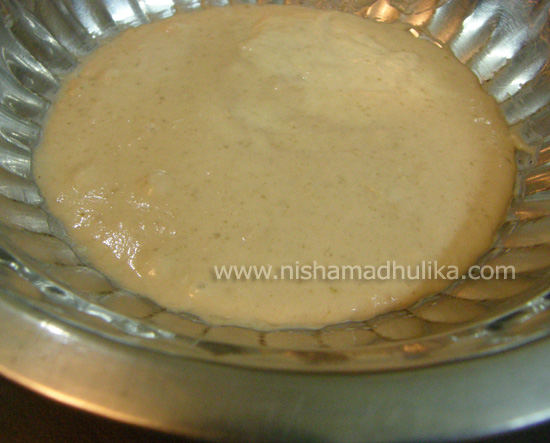 Yeast word is derived from Sanskrit "Yas" word.Yeast has been brought in use in cooking since ages. Yeast is commonly used to make Sheermal, Yeast Bread (Naan), Jalebi etc. Yeast brings good texture and fragrance to the food.
Fresh Yeast and Baker's Dried Yeast can be bought from the market. But incase none of it is available in the market, then you can even make Yeast at home. I myself prefer making Yeast at home, instead of buying it from the marketplace
इस पोस्ट को हिन्दी में पढिये
How to make yeast at home
Ingredients for Yeast
Maida (All Purpose Flour) - 1 cup.

Curd - 2 table spoon.

Sugar - 2 tea spoon.

Sounf Powder - 1 tea spoon.
Method - How to make Yeast at home.
Sieve the maida, and mix it well with curd, sugar, and sounf powder and make a batter by pouring less than 1/2 cup of luke warm water. Beat it for atleast 5-6 minutes so that no lumps are formed.

Put this batter in an air-tight container or cover the bowl in which you prepared the batter  with a cleanse film. Within 18-24 hours the batter produces bubbles, which means that the  yeast is formed. You can preserve it for 7 days in the refrigerators.
If you knead this yeast with maida, you'll get a spongy dough after 4 hours which can be used to make any kind of bread like Pav or Naan.  To make bread from the yeast dough take out 1 cup from it and keep the rest into the refrigerator again. You can use this dough to make bread whenever you want. It just takes 4 hours for the dough to get spongy, enough suitable to make bread.
Method - How to make Bread with Home-made Yeast
1 bowl of yeast is enough to knead 2 1/2 cup (300gms) maida. Sieve maida and take it out in a separate plate. Now divide the maida equally in to two portions in the plate forming a gap. Put 2 table spoon oil, 1 tea spoon sugar, 1/2 tea spoon salt and knead all the ingredients in luke warn water to make more smooth dough than a dough prepared to make chapati. Keep on kneading the dough for  5-7 minutes by flipping and  turning over the sides continuously. The maida should be kneaded by doubling up to arouse the yeast so that the dough gets greasy and elastic in touch. Within 5-7 minutes the dough will get greasy and elastic and while touching it the dough will be smooth and oily.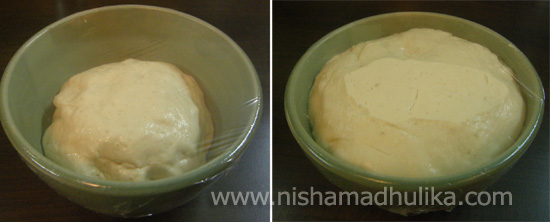 Place the kneaded dough in a greased bowl and cover it with a clean towel or a cleansed film. Keep the bowl in a warm place. Within 4 hours the dough will be spongy, ready to make bread. The dough it ready to make any kind of bread.
Preserve 1 cup of the yeast dough in the refrigerator. You can store it for upto 7 days. This yeast dough will work as a yeast and this time you will be able to able make a better quality of bread with the use if this yeast dough.

Tags
Categories
How to Make Yeast at Home
Nisha Madhulika
Rating:

5.00

out of

5