Mangodi ki Kadi Recipe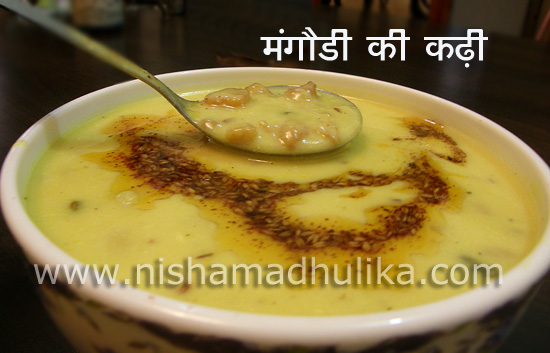 At times we get bored eating the same vegetables and lentils then one thinks of preparing Kadi. Mangodi ki Kadhi is very tasty and takes very less time to prepare. Today we will prepare Dal Mangodi ki Kadi with some tiny changes in the procedure.
हिन्दी में पढिये : Mangodi ki Kadi Recipe
- Ingredients for Mangodi ki Kadhi
Gram flour - 100 grams (1/2 cup)
Mangodi - 100 grams (1/2 cup)
Curd - 300 grams (1 1/2 cup)
Oil - 3 tbsp
Heeng(asafoetida) - 1 to 2 pinch
Jeera(cumin seeds) - 1/2 tsp
Methi(fenugreek) seeds - 1/2 tsp
Green chillies - 2 (finely chopped)
Ginger - 1 inch long piece (finely chopped)
Turmeric powder - 1/2 tsp
Red chilly powder - 1/2 tsp (add to taste)
Salt- 1 1/2 tsp (add to taste)
Green coriander(dhaniya) - 1 tbsp
- How to make Mangodi ki Kadhi
Pour 2 tsp oil in a frying pan(kadhai) and heat, put Moong Dal Mangodi in hot oil and fry till it turns light brown. Take out fried Mangodi in a plate.
To make Kadi
Filter gram flour and keep in any utensil.
Churn the curd then put it in a utensil, mix curd and gram flour till they blend in completely and become a homogeneous mixture. Add 1.25 litres or 6 cups of water in gram flour mixture. The mixture needed to make Kadi is ready.
Heat 2 tbsp oil in a frying pan, put Heeng, Jeera and Methi in hot oil. After Jeera and Methi are roasted add turmeric powder, green chillies, red chillies and ginger. Put fried Mangodis in these spices along with 1 cup water, cover and cook on a low flame till Mangodis turn soft.



After Mangodis are cooked, put the gram flour mixture and stir till it comes to boil(cook on a high flame so that Kadi comes to boil quickly). Add salt after Kadi comes to boil. Lower the flame, now allow Kadi to cook on a low flame for 15-20 minutes. Stir Kadi with a spoon every 3-4 minutes. You will see Gram flour Malai all over the surface of the Kadi. Kadi is ready. Do not forget to make rice along with Kadi, as the two taste awesome together.
Take out Kadi in a bowl and garnish with green coriander or heat 2 tsp oil in a pan, put little Jeera in hot oil. Turn off the gas, now put very little red chilly powder in this oil and pour it this Tadka over the Kadi as garnish. Serve hot Kadi with rice, chapati or parantha.
How did you find the taste of this Moong Dal Mangodi ? Try this recipe yourself and let us know.
If  curd is fresh then Kadi does not become very sour, to make Kadi sour squeeze the juice of one lemon and put in the Kadi after it is cooked. This makes Kadi sour and tasty.
Serves - 4
Cooking time - 50 minutes
Related topics
Mangodi ki Kadi Recipe video in Hindi


Tags
Categories
Mangodi ki Kadi Recipe
Nisha Madhulika
Rating:

5.00

out of

5