Coconut Laddu Recipe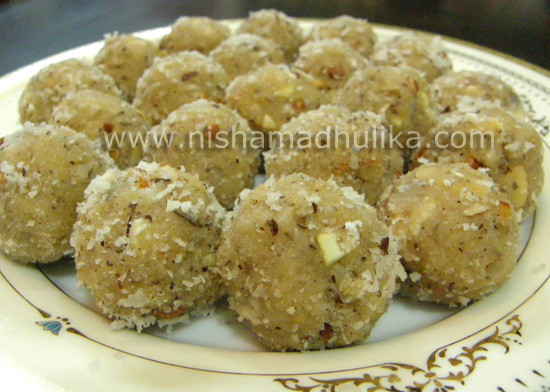 It is very easy and quick to prepare Coconut Laddus at home. You can prepare Laddus during Diwali festival at home only. In these occasions many sweets are adulterated and it is better to prepare sweets at home.
Coconut Laddus can be made by using either mawa or condensed milk. But Laddus prepared from mawa are tastier, rather then prepared with condensed milk.
Coconut Laddu can be made with both raw coconut or dried coconut. In case you are using raw coconut then grate it and roast it in 1 table spoon ghee. And if you are using dried coconut then you don't need to roast it.
इस रेसीपी को हिन्दी में पढिये
Coconut ladoo recipe in Hindi
Ingredients for Coconut Laddu
Coconut - 250 gms. ( grated)
Mawa - 250 gms. or 1 cup.
Tagar (तगार) - 300 gms. or 11/2 cup.
Mewa - 1/2 cup (Cashews, Almonds)
Small Cardamom - 8-10
Method - How to make Coconut Laddu
Roast mawa in a pan till it turns light pink. Cut cashews and almonds into small pieces and clean the chironji.  Once the roasted mawa cools down, add grated coconut, mewa, and cardamom into it. Mix them well with the help of a ladle. Save little coconut powder for later use to dust the coconut laddus.


Mix the ingredients well and shape the mixture into small laddus. Roll each laddu in the dried coconut powder. Coconut Laddu are ready. You can store these laddus for 10 days in the refrigerator.
How to Make Coconut Laddu with Condensed Milk
Condensed Milk - 200 gms. or 1 cup.
Coconut - 200 gms. or 2 cup (grated)
Tagar - 100 gms. or 1/2 cup.
Mewa - 1/2 cup.
Cardamom - 5
Heat condensed milk into the pan and add grated Ccoconut, mewa and tagar to it. Save little coconut powder for later use to dust the coconut laddus.
Roast the mixture and stir it continuously . Turn off the flame as soon as the mixture gets thick in consistency. Add cardamom powder into the mixture and mix it well. Shape the mixture into small laddus and roll each of them in dried coconut.
You do get grated coconut in the market also, but it does not gives the same result. So it is better to grate the coconut at home only to get the traditional taste.
Related Recipe:

Tags
Categories
Coconut Laddu Recipe
Nisha Madhulika
Rating:

5.00

out of

5