Raw Banana Cutlet/Plantain Cutlet Recipe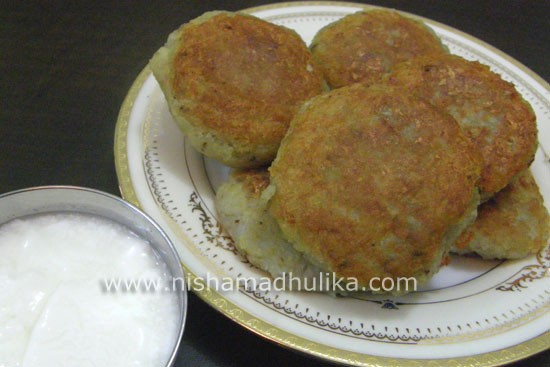 If you feel like having something light before dinner then you can try Raw Banana Cutlet. According to your wish you can make cutlets only with bananas or potatoes with bananas.
Raw Banana Cutlets can be had on fasts as a fruit diet. If you do not want to eat it as a fruit diet then instead of Sendha salt, plain salt and in place of Singhada or Kattu flour corn starch or gram flour can be used.
हिन्दी में पढिये - Raw Banana Cutlet/Plantain Cutlet Recipe
Raw bananas - 4 (500 grams)
Potatoes - 2 to 4
Singhada/Kattu flour (or gram flour) - 2 टेtbsp
Sendha salt (or plain salt) - add to taste (1 tsp)
Black Pepper - 1/4 tsp
Green coriander(dhaniya) - 1 tbsp (finely chopped)
Oil - to fry cutlets
How to make Raw Banana Cutlet
Wash the bananas properly, cut off the edges on both ends, keep bananas in a utensil then place them in a cooker allowing them to cook with the steam or roast it in the microwave for 3 minutes. Boil the potatoes.
Peel the skin from the bananas and mash them, peel potatoes and mash them too or grate them.
Mix mashed or grated potatoes, bananas, salt, black pepper and green coriander in a utensil. After you mix all the ingredients well knead them as you would knead a dough.


Pour 1 tbsp oil in a non-stick pan(kadhai) and heat. Take little mixture in your hands, roll it into a round ball then press gently with your palms to flatten it a bit. Similarly make 4-5 balls and flatten them. Put these in hot oil to fry. Fry (turn the sides regularly)till both sides turn brown then take out the cutlets in keep them on a plate. Fry all the cutlets in this same manner. Raw Banana Cutlets are ready.
Deep fry Banana Cutlets : to deep fry these cutlets add 2 tbsp Singhada/Kattu flour to them and mix well.
Pour oil in a frying pan and heat, break of lemon sized pieces from the mixture make cutlets in any shape you want. Put these in hot oil, 3-4 cutlets can be fried at one time, turn over the cutlets regularly and fry till they turn brown. Take out fried cutlets and keep them on a plate covered with a paper napkin. Fry all the cutlets in this same manner.
Hot Raw Banana Cutlets are ready, serve with fresh curd.
Serves - 4
Cooking time - 30 minutes
Tip:
When you are preparing Banana, potato or any other cutlet, do not use the potatoes immediately after they are boiled. Keep them in the fridge for 1 hour and your cutlet, Bhalle or salad will turn out to be very tasty.
Raw Banana Cutlet video in Hindi

Tags
Categories
Raw Banana Cutlet/Plantain Cutlet Recipe
Nisha Madhulika
Rating:

5.00

out of

5