Stuffed Potato Naan/Aloo Naan Recipe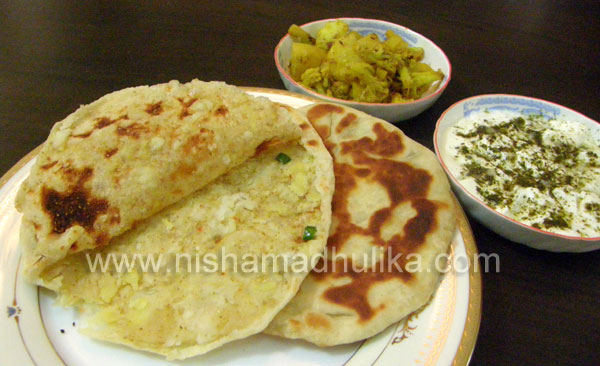 Plain Naan is obviously delicious but Stuffed Naan is more tasty, there are different types of Stuffed Naan : Potato, Paneer, Dal , Cauliflower etc. All Stuffed Naan's are made in this same manner.
Today we will prepare Stuffed Potato Naan/Aloo Naan, so let us start the preparation.
हिन्दी में पढिये : Stuffed Potato Naan/Aloo Naan Recipe
- Ingredients for Stuffed Potato Naan :
Flour(maida) - 400 grams ( 2 cup)
Baking soda - 1/4 tsp
Salt - add to taste (1/2 tsp)
Curd - 2 tbsp
Milk - 2 tbsp
Oil - 2 tbsp
Oil/Ghee - to fry Naan
To prepare Potato stuffing :
Potatoes - 200 grams (3-4 medium sized)
Green chilly - 1 to 2
Ginger - 1inch long piece
Salt - add to taste (1/3 tsp)
Red chilly powder - 1/6 tsp
Amchur(mango) powder - less than 1/4 tsp
Coriander(dhaniya) powder - 1 tsp
Green coriander - 1 tbsp (finely chopped)
- How to make Potato Stuffed Naan
Filter flour mixed with baking soda and salt. Create a small crater in the flour then pour curd, milk and oil in it. Mix all these ingredients properly and use some water enough to knead a soft dough. Press the dough nicely with your hand making it smooth, it becomes very light. Cover the dough and keep aside for 4 hours allowing it to ferment only then dough will be ready to make Naan.
Wash then boil potatoes, cool them, peel and break the potatoes into small pieces. Wash green chilly, breaks its stem/stems then finely chop it. Peel, wash then grate ginger.
Add green chilly, ginger, salt, red chilly, Amchur powder, coriander powder and green coriander to the potato pieces then mix. Potato stuffing for Naan is ready.



Break of the dough into 8 equal pieces and round them off into balls. Divide stuffing into 8 equal portions as well.
Take a ball of dough, wrap it in dry flour and flatten with a rolling pin into a Naan 5-6 inches in diameter. Place a portion of potato stuffing on the rolled Naan, wrap up the Naan and close all open ends. Wrap this potato stuffed ball in dry flour and expand a little with your fingers. Gently roll with a rolling pin into a round Naan 6-7 inches in diameter..



Grease Tandoor(furnace) tray with oil and heat. Place the rolled Naan on the hot tray and pour some oil on top of it. Turn the Naan over and cook till it turns brown. While cooking the Naan you can also switch off the Tandoor switch time to time to cool it, while making sure the Naan does not burn. Similarly prepare all Naan's.
Serve hot Stuffed Potato Naan/Aloo Naan with Aloo-Tamatar curry, Dal Makhni, Raita, Chutney and eat.

Tags
Categories
Stuffed Potato Naan/Aloo Naan Recipe
Nisha Madhulika
Rating:

5.00

out of

5