Mango Papad/Aam ka Papad recipe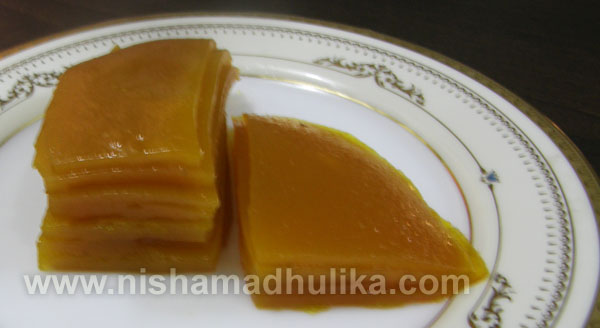 Mango Papad brings back childhood memories, if you prepare it at home and eat then it will surely taste better than the ones you had when you were small. It tastes so good that you will find even sweetmeats bland in taste. The sour, sweet and spicy taste of the savoury Mango Pickle will be known only to those who eat it.
It is very easy to prepare Mango Papad/Aam ka Papad but you would require a good sunny day for it. Mango Papad can be made from any type of mango. If the mango is sour then we can increase the sugar content. So let us start preparing Mango Papad.
हिन्दी में पढिये : Mango Papad/Aam ka Papad recipe
- Ingredients for Mango papad
Mangoes - 2 big(500 grams)
Sugar - 2 tbsp
Eaichi(cardamom) - 2 (peel)
- How to make Mango(Aam) Papad
Wash, peel and cut mangoes into pieces.
Make a fine paste of the mango pieces mixed with sugar and Elaichi.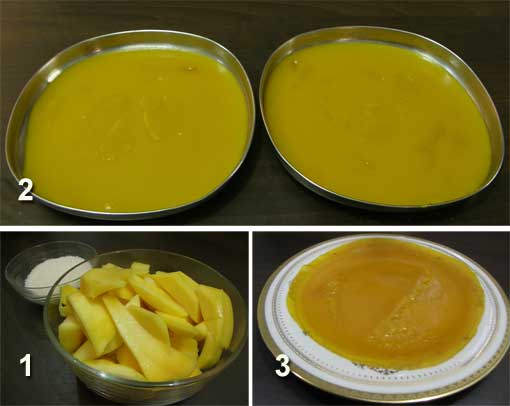 Put the mixture of mangoes and sugar in a utensil then place it on the gas to boil. After it comes to boil, cook for 7-8 minutes while you stir continuously.
Grease a plate or tray with Ghee, pour the cooked mango mix in the plate and spread it out thinly.
Now keep this plate out in the sun to dry. If the sun's heat is strong then the Mango Papad will be dried and ready by evening. Else you can keep the plate in your room or the kitchen, you can cover the Mango Papad with a thin cloth or net. This Mango Papad also dries in the wind, so it will be dried by morning as it could not get enough sun.
Cut out the dried Mango Papad with a knife from the sides of the plate. It will come out as a whole piece. If the Mango Papad is wet then it will stick to the plate in those areas, in this happens then keep the Mango Papad to dry.
Once the Mango Papad has dried completely take it out with a knife and overturn the plate as you hold it with your hands. You can cut this Mango Papad according to your desired shapes and sizes. These pieces of Cut Mango Papad can be placed one over the other or you can form a layer with all the pieces placed together.
Spicy Mango Papad Recipe
You can also make Spicy Mango(Aam) Papad, for this you have to ad 1/2 spoon black salt and almost 6 crushed black peppers to the mixture when its boiling and turns thick. Then follow the above instructions to finish the preparation.
You can store and eat Mango Papad for 1-2 months if kept in the fridge.
But if you look for the Mango Papad in the fridge after 1-2 days then you will come to know that your family members have already finished it. So, don't wait long!!
Mango Papad/Aam ka Papad recipe video in Hindi


Tags
Categories
Mango Papad/Aam ka Papad recipe
Nisha Madhulika
Rating:

5.00

out of

5