Sambar Masala Recipe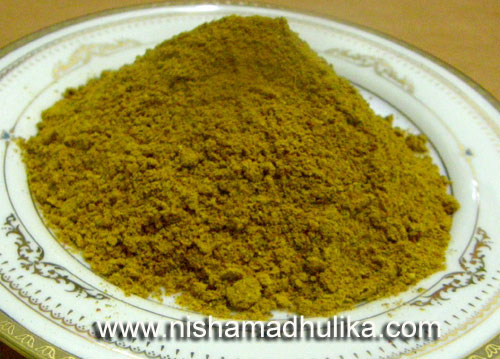 Sambar Masala might have been a major south Indian spice but due to its aroma and taste it has become famous all over the world.
The Sambhar prepared with these spices can be had with Dosa, Idli or Vada. Sambhar Masala can also be used in the form of Tawa masala while stir frying or Tawa frying vegetables.
हिन्दी में पढिये : Sambar Masala Recipe 
-Ingredients for Sambar Masala
Chana Dal - 1 tbsp
Urad dal -  1/2 tbsp
Whole coriander(dhaniya) - 3 tbsp
Jeera(cumin seeds) - 1tbsp
Methi seeds - 1 tbsp
Cloves - 20
Blabk pepper - 1tsp
Elaichi(cardamom) - 4 (peeled)
Rie -  1 tsp
Turmeric powder - 1 tbsp
Heeng(asafoetida) - 3 to 4 pinch
Red chilly powder - 10 to 12(whole)
Curry leaves - 20 to 25(whole
Cinnamon - 2 pieces
- How to make Sambar Masala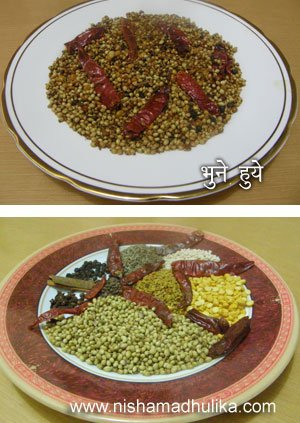 Put the Chana and Urad dal on the pan(Tawa) and fry till they turn light brown. Take out the fried dals on a plate.
Put coriander, Jeera, Methi, Rie all of the spices in the pan and fry till these turn light brown then take them out.
Once the spices cool down, mix all the remaining spices and dals, grind to make a fine powder. Sambhar Masala is ready.
Fill the Masala in an air-tight container, whenever you are preparing  Sambhar use this Sambhar Masala.
Related Links

Tags
Categories
Sambar Masala Recipe
Nisha Madhulika
Rating:

5.00

out of

5