Matar Paneer Recipe - Pea-Paneer Recipe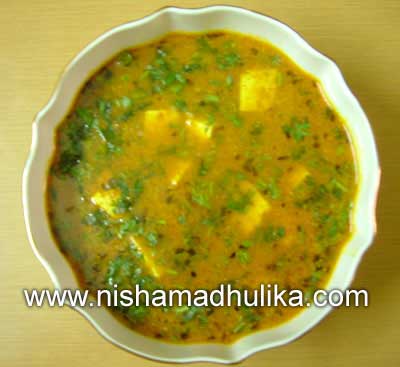 Matar paneer is a famous recipe of North India. Every person fonds it. Would you like the (matar paneer Recipe) Pea and Paneer recipe.
हिन्दी में पढिये : Matar Paneer Recipe in Hindi
Ingredients for Matar Paneer Recipe (Pea-Paneer Recipe
Paneer- 250 Gms (Paneer is available in the market and you may prepare at home)
Pea - Peeled one small bowl
Tomato-2 or (150 Gms)
Green Chilly- 1 to 2
Ginger-1 inch in length
Curd- 1/2 small bowl
Cream or cream of milk- 1/2 bowl
Refined Oil- One big spoon
Coriander Powder- 1/2 small spoon
Turmeric Powder- 1/4 small spoon
Coriander Powder- 1 small spoon
Red Chilli Powder- 1/4 small spoon
Garam masala- 1/4 small spoon
Salt- 1/2 small spoon or (According to taste)
Greem coriander- (sliced)
How to make Matar Paneer Recipe (Pea-Paneer Recipe)
Grind the tomato, green chilli and ginger in a grinder finely.Add curd and cream into it. Grind them again them well. Cut the paneer into small pieces and boil the pea with 1/2 cup of water.
Put the oil in a pan and heat the pan. Put the cumin seed into the pan. After the cumin seed is properly fried in the oil then put the turmeric powder, coriander powder and red chilli into it. Cook it fo 10 to 12 seconds and put the masala prepared by you into the pan until the masala release the oil on it.
Now pour a small glass of water (200 Gms) into the pan and put the boiled pea into the pan. When the tari starts boiling, put the paneer into the tari. Allow it to boil for 1 to 2 minutes again. Turn off the burner. The matar Paneer recipe (Pea and Paneer Recipe is ready now.
Now put the garam masala and coriander into the recipe and take out it in a bowl. Garnish this with the green coriander. You can serve and eat with the bread, nann and chapatti.
Note-
If you are fond of onion, you may use it in this recipe. Grate and cut the onion into small pieces. Put the onion in the pan after the cumin seed is fried properly. After that you are required to put all these masalas into the pan and cook as per the method given above.
matar paneer recipe in Hindi Video in Hindi

Tags
Categories
Matar Paneer Recipe - Pea-Paneer Recipe
Nisha Madhulika
Rating:

5.00

out of

5